State of emergency declared by Missouri governor following violent protests over US police shooting of black teenager.
Police said they fired smoke and tear gas canisters into a crowd of defiant protesters in the St Louis suburb of Ferguson where an unarmed black teenager had been shot by a white police officer while walking down the street.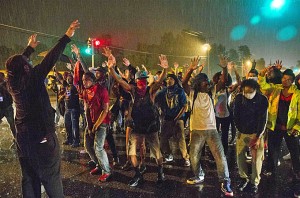 A couple of hundred remaining protesters chanted "No justice! No curfew!" as the deadline took effect on Sunday morning as part of a state of emergency declared by the governor.
As five armored tactical vehicles approached the crowd, officers spoke through a loudspeaker: "You are in violation of a state-imposed curfew. You must disperse immediately. Failure to comply may result in arrest."
As officers put on gas masks, a chant from the distant crowd emerged: "We have the right to assemble peacefully."
A moment later, police began firing canisters into the crowd of protesters.
Highway Patrol Spokesman John Hotz initially said police only used smoke, but later told The Associated Press that they also fired tear gas canisters.
He said of police efforts: "Obviously, we're trying to give them every opportunity to comply with the curfew."
Jayson Ross, who was leading the protesters towards police before the canisters were fired, said: "They got guns. We got guns. We are ready."
Racially charged protests
The unrest between police and protesters came after Governor Jay Nixon on Saturday declared a state of emergency following a week of racially charged protests after police officer Darren Wilson, 28, shot and killed 18-year-old Michael Brown as he and a friend walked down a street that runs through an apartment complex where Brown's grandmother lives.
The curfew will run from midnight (05:00 GMT) until 5am, according to Highway Patrol Captain Ron Johnson, who has been appointed to oversee security in the suburban St Louis community that has been riled by the August 9 shooting of Brown.
On Saturday afternoon, Nixon and other officials came face to face with angry members of the community during a tense news conference at a church near Ferguson.
"The eyes of the world are watching. This is the test of whether a community, this community, any community, can break the cycle of fear, distrust and violence, and replace them with peace, strength and, ultimately, justice," Nixon, a Democrat, told the gathering.
Some in the crowd reacted angrily to the announcement of the curfew and said the police officer who killed Brown must be prosecuted for murder if peace is to return to the community.
"I think it's an antagonistic decision to not allow people to express their freedom of speech. It's an overreaction," protester Darren Alexander, 57, said.
Brown's family and supporters have demanded for days that the officer who shot Brown be held accountable.
The US Department of Justice is investigating the shooting for any civil rights violations, and the St Louis County Police department also has launched a probe.