At least four killed and 30 wounded in explosion outside mosque in city of Karachi.
A bomb attack in Pakistan's biggest city, Karachi, has killed at least four people and wounded 30 others, five of them seriously, according to tribune reporter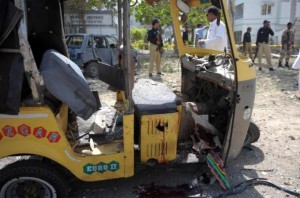 Senior police officer, Abdul Khaliq Sheikh, said Friday's attack took place outside a mosque in the upscale Clifton neighbourhood in Karachi, the capital of Sindh province, according to the tribune reporter.
Sindh's police chief, Iqbal Mehmood said the explosion had been caused by 10kg of explosives planted on a rickshaw. Speaking from the blast site, he said the attack targeted provincial government officials, Tribune's Syed Nabeel reported.
"The way in which this incident came about, different people were hit by it, including those who had just been offering Friday prayers" said Sagheer Ahmed, health minister.
Nobody has claimed responsibility for Friday's attack but provincial Information Minister Sharjeel Memon pointed his finger at the Pakistani Taliban (TTP).
"You know that ever since the ceasefire has ended, the whole country is in threat" he told reporters.