BANNU: Christians and Hindus who fled from a military offensive against militants in North Waziristan say the Taliban treated them with relative tolerance, contrary to the militants' brutal reputation.
Some 2,000 people from the country's often-embattled religious minorities have fled an army operation that began in mid-June in the North Waziristan tribal district for the nearby town of Bannu, where many have taken refuge in Christian schools.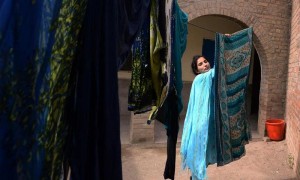 Like nearly half a million other residents who have escaped the fighting, they spoke of the hardship of living in a zone that has been caught in conflict for more than a decade.
North Waziristan, on the border with Afghanistan, has been a haven for Taliban and Al Qaeda-linked militants for years.
But despite the Taliban's demand for an Islamic state and their claim on numerous bloody attacks on minorities, a number of Christians and Hindus from their home base told AFP they had not been singled out for mistreatment.
Jameela Itbari Lal, an 80-year-old Hindu woman, said she migrated to North Waziristan at the age of 15 to marry her husband.
"I spent 65 years in Miramshah, after marrying a local Hindu. These were the golden days. We had enjoyed peace, love and respect from the local communities," she told AFP in Bannu, sat on a bed surrounded by children and grandchildren.
Things began to change for the worse when the Taliban rose up, she recalled.
"It was terrifying to see Taliban militants, their threatening attire and their weapons in the streets of the city," she said.
A small Christian and Hindu community has lived in the restive tribal belt since the days of British rule.
Many are the descendants of people brought by British army officers as servants who decided to stay when the colonists left in 1947.
Unexpected sympathy
The Taliban were accused by many residents of extorting shopkeepers and kidnapping for ransom. But, said Lal: "We had never been threatened on the basis of our religion and never forced for conversion of faith."
Pakistan's population of 180 million is around 97 per cent Muslim, with minorities like Christians and Hindus often facing severe discrimination in education and the workplace.
They have also come under attack by other militants in recent years, including a suicide bomb attack on a church in the city of Peshawar last year that killed nearly 100 people.
Iqbal Masih, a 38-year-old Christian pharmacist from North Waziristan, told AFP: "Nobody would believe us that the Taliban expressed concern over the bombing in the Peshawar church and sent us a message of sympathy and condolence.
"We had received respect and good treatment as the Taliban considered us guests."
Lal's 35-year-old son Nadeem Kumar said that while the Taliban did not try to force them to convert, they would often steal their food and accuse them of collaborating with security forces.
"One of my brothers was kidnapped and released after four hours over these allegations," he said.
While in Bannu, the Hindus — who number around 250 — and Christians live separately from Muslims.
"We decided to keep these families here to avoid any disturbance or discrimination on the basis of religion," said Reverend Humphrey S. Peters, the bishop of Peshawar.
"They will have the freedom of participating in their religious ceremonies, which is not possible in a refugee camp with other Muslims."
Many said they wanted to go back home after the operation was over, rather than migrating to a less volatile region.
"We are from Waziristan. We are living there for three generations. I hope for peace and stability soon," said Masih, though he added that the government should provide compensation to the affected families.
Lal, the grandmother, said that despite her love of her town, perhaps it was time to move on.
"The government should ensure full assistance in our safe return, provide food and re-build our houses; otherwise, it should send us to India — the home of Hindus."