ISLAMABAD, (Pakistan) — China and Pakistan launched a plan on for energy and infrastructure projects in Pakistan worth $46 billion, linking their economies and underscoring China's economic ambitions in Asia and beyond.
China's President Xi Jinping arrived in Pakistan to oversee the signing of agreements aimed at establishing a China-Pakistan Economic Corridor between Pakistan's southern Gwadar port on the Arabian Sea and China's western Xinjiang region. The much anticipated visit is the first by a Chinese president to Pakistan after nine years.
Prime Minister Nawaz Sharif said the corridor would transform Pakistan into a regional hub and give China a shorter and cheaper route for trade with much of Asia, the Middle East and Africa.
"Friendship with China is the cornerstone of Pakistan's foreign policy," Nawaz said in a speech.
Xi linked the economic cooperation with security. "Our cooperation in the security and economic fields reinforce each other, and they must be advanced simultaneously," he said.
Nawaz added, "I assured President Xi that Pakistan considers China's security as important as its own security."
Xi called for greater efforts to bring peace to Afghanistan, where Pakistan is keen to restrict the influence of its rival India.
Growing economic ties between China and Pakistan
Though China and Pakistan have had close diplomatic and military ties for decades, economic links only started growing recently. Trade between the two countries was $12 billion last year, compared with $2 billion a decade ago.
The building of the Pakistan China Economic Corridor has an important bearing on national strategies and livelihoods of the two countries, he said. The two sides believe that the layout and construction of the corridor should take into account the interest of various regions of Pakistan so that the building of the corridor will benefit people, said Xi.
"This corridor will benefit all provinces and areas in Pakistan, and transform our country into a regional hub and pivot for commerce and investment. It will also enable China to create a shorter and cheaper route for trade and investment in south, central and west Asia, and the Middle East and Africa. This corridor will become a symbol for peace and prosperity."
Economic corridor in focus as Pakistan, China sign 51 MoUs
A ceremony was organised at the Prime Minister's Office on Monday, where Pakistan and China signed 51 Memorandums of Understanding (MoUs) nd agreements in different sectors, including energy, infrastructure, security and economic development, including the Pakistan China Economic Corridor.
China's President Xi Jinping has signed agreements with Pakistan promising investment of $46bn. The focus of spending is on building a China-Pakistan Economic Corridor (CPEC) – a network of roads, railway and pipelines between the long-time allies. They will run some 3,000km (1,800 miles) from Gwadar in Pakistan to China's western Xinjiang region.
Under the CPEC plan, China's government and banks will lend to Chinese companies, so they can invest in projects as commercial ventures.
Some $15.5bn worth of coal, wind, solar and hydro energy projects will come online by 2017 and add 10,400 megawatts of energy to Pakistan's national grid, according to officials. A $44m optical fibre cable between the two countries is also due to be built.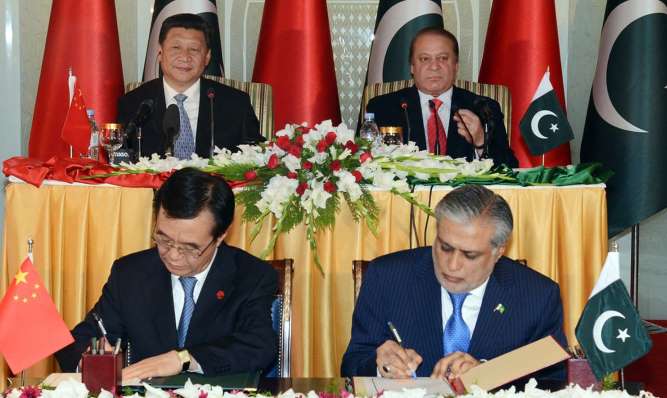 "They (agreements) include the facilities of the Gwadar port, the second phase of the upgrading project for the Karakoram highway, the motorway project between Karachi and Lahore, the rail transportation Orange line project of Lahore and other major transportation infrastructure projects and a series of energy projects," Chinese President said.
Beijing hopes the investment will stabilise its longtime ally's economy and extend China's influence in western Asia. Pakistan hopes that the investment plan will end a chronic energy crisis and transform it into a regional economic hub.
Cooperation in civil nuclear energy agreed between Pakistan and China
Pakistan and China have agreed to continue bilateral cooperation in civil nuclear energy under IAEA safeguards, in line with their respective bilateral and multilateral commitments.
"China appreciates and supports steps taken by Pakistan towards its mainstreaming into the global non-proliferation regime," a joint communiqué issued from foreign office said.
Both sides reaffirmed their commitment to multilateral non-discriminatory arms control and non-proliferation endeavours.
Courtesy: IRIA