By Yasmeen Aftab Ali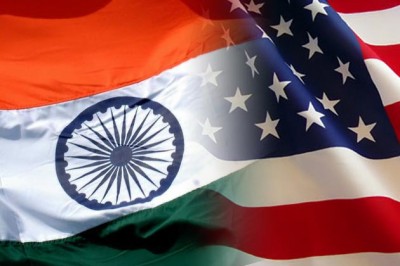 'The United States, which once considered Pakistan a 'corner stone' of its foreign policy seems to have shifted the balance towards India. There are speculations that US may soon, or may already have, "outsourced" the management of its South Asian Security Policy to India. India may have been tasked to 'guard the US interests' in South and East Asian regions, against a common adversary, China. If this is true then the concern is far more serious for India's neighbours in the region. South Asian analysts believe if India has agreed to play this role in the region, then the US must have offered her incentives, obviously of strategic nature. And that might have links to the reference of 'Kashmir' and 'Pakistan' in their joint communiqué." (Editorial, Weekly Pulse October 13-19) The joint communiqué refers to the official joint statement released on the Indian Prime Minister's recent visit to the US.
We need to look at this opinion closely and in detail. Security issues were the high point of the meeting between Barack Obama and Narendra Modi. The 2005 Framework on Defence, originally signed between Manmohan Singh and George Bush, was given a new lease of life by the current Prime Minister of India and US President. Issues of "defence technology transfers, trade, research, co-production, and co-development" have been given weightage between the two.
India's focus to "Act East" brings up an interesting preposition: Does this indicate a meeting between America, India and Japan? America and Japan are strategic allies whereas Japan and India enjoy a Strategic Global Partnership focused more on maritime activities.
America also agrees to provide vehicles to India that are not only mine resistant but also ambush protected. This comes on the heels of America closing a deal to sell 160 similar machines to Pakistan. Does this mean India's Prime Minister jealously brought up the deal with Pakistan to curry a similar deal? Probably yes.
There have been talks between both the leaders on "dismantling terrorists, criminal networks and safe havens". Only a day following the joint communiqué, America announced her decision to freeze assets of at least two of Pakistan based terror organisations: the first being Harkatul Mujahideen and the second being Lashkar-e-Taiba.
Earlier, in August 2014, Chuck Hagel had visited India for three days, a follow up to John Kerry's visit as well as a trip by US Secretary of Commerce Penny Pritzker. "In one masterstroke, Kerry solved the highly emotive issue of the denial of visa by dismissing it as a decision taken by a previous government, thus distancing Obama from any "Modiphobia". Modi himself had never played it up as an impediment and now it has become a non-issue. The snooping issue was similarly dealt with in a forthright manner, with Swaraj insisting that it was not acceptable and Kerry giving assurances of non-intervention without discussing intelligence matters. Swaraj did not provide any alibi for the US in the name of anti-terrorism measures, as her predecessor did on an earlier occasion." (TP Sreenivasan, Former Ambassador of India)
The signal is clear. It's green. It indicates America's renewed interest in India. Chuck Hagel's main agenda was to help move both countries closer. "India is likely to buy Apache gunships and 22 Chinook attack helicopters, both built by Boeing. The deals are expected to feature in Mr Hagel's meetings with Defence Minister Arun Jaitley and the Chairman of the Chiefs of Staff Committee, Air Chief Marshal Arup Raha. Sources say Mr Hagel hopes to persuade India into a follow-on order of 39 AH-64D Apache helicopters in addition to the 22 now being negotiated. The two sides have been wrangling over the price of the gunships, with the initial deal having been estimated to be worth $1.4 billion. The initial batch of Apache helicopters is meant to replace the Indian Air Force's ageing fleet of Soviet-era aircrafts and will be armed with Hellfire and Stinger missiles.
"The Indian Army has separately requested a fleet of at least 39 of these attack aircrafts, some of which will be deployed as part of a new mountain strike corps it is raising along the disputed border with China, an army official said. The two sides are also in talks to finalise a contract for the Indian Air Force to buy 15 CH-47F Chinooks, a twin-rotor helicopter capable of lifting heavy loads, also valued at $1.4 billion. The Cabinet has just cleared a proposal to allow 49 percent foreign participation in the defence industry, up from a current cap of 26 percent, in a bid to boost local manufacturing and end a long dependence on overseas acquisitions that made India the world's biggest arms importer in recent years." (NDTV, August 08, 2014)
"Leadership in South Asia is, of course, just one part of India's increasingly important global role. As India is both a rising power and a democracy, we in Washington view its growing influence in the world as broadly congruent with US interests. Both countries seek to promote democratic principles and institutions around the world because we know that stable democracies are largely peaceful and better able to manage the consequences of globalisation. Whether it comes to ensuring that China's rise is peaceful or preventing the Muslim world from turning its back on modernity or stopping rising economies from being ruined by rising temperatures, it is hard to think of two other countries with as much at stake or as much to offer to global stability." (Nicholas Burns, US Under Secretary of State for Political Affairs writing for Foreign Affairs).
He goes on to write, "Meanwhile, the United States and India must also achieve more advanced cooperation on counterterrorism, intelligence, and law enforcement, based on the recognition that terrorism is a central threat to both countries. This means, among other things, working more closely to disrupt the flow of funds to terrorists. We also urge India to participate in our Container Security Initiative (which, among other things, allows the United States to check suspect US-bound cargo containers at their foreign ports of departure) and to unleash its proven expertise in information technology to meet a new generation of threats from cyberspace."(November-December 2007 issue)
More recently, Indian-American Sampat Shivangi has been appointed as the Chairman of the Mississippi Board of Mental Health, making him the first Asian to occupy the top health post in the southern American state, announced The Times of India on July 25, 2014. His credentials notwithstanding, it's not the appointment but the timing of the appointment that makes it interesting. Further, Anita M Singh, who previously worked at the White House on cyber-related issues, has been appointed the Chief of Staff and Counselor in the National Security Division of the US Justice Department. As NSD's Chief of Staff, Singh will focus on strategic management issues including the design of structural changes to support work in emerging threat areas, according to a statement from the Justice Department, says TheTimes of India. (Oct 22, 2014) My observation remains the same as in the case of appointment of Sampat Sivangi.
Is the Editorial of Pulse right after all in stating that the US may soon, or may already have, "outsourced" the management of its South Asian Security Policy to India? –
– Writer is an Attorney-at-law, Columnist at Pakistan Today and the author of 'A Comparative Analysis of Media & Media Laws in Pakistan'