In the midst of rising tensions between Australia and Indonesia, the federal government has dramatically slashed aid to its large foreign neighbour by an eye-popping $239 million
Australia has slashed aid spending to Indonesia by 40 per cent and trimmed assistance to Nepal as it recovers from a devastating earthquake.
Tuesday's federal budget confirmed a mid-year review decision to reduce the overall aid program by an unprecedented $1 billion to $4 billion in 2015-16.
Aid to Indonesia – the biggest beneficiary of Australia's largesse – will be cut from $605.3 million to $366.4 million.
But Treasurer Joe Hockey insists Indonesia has not been singled out for special attention in the wake of Jakarta's decision to execute Bali Nine drug smugglers Andrew Chan and Myuran Sukumaran in April.
"Not at all," he told reporters ahead of his speech to parliament on Tuesday.
Foreign Minister Julie Bishop had gone through a proper process in deciding which nations would be supported, taking into account their economic growth, the needs of the region and whether countries were aid donors themselves.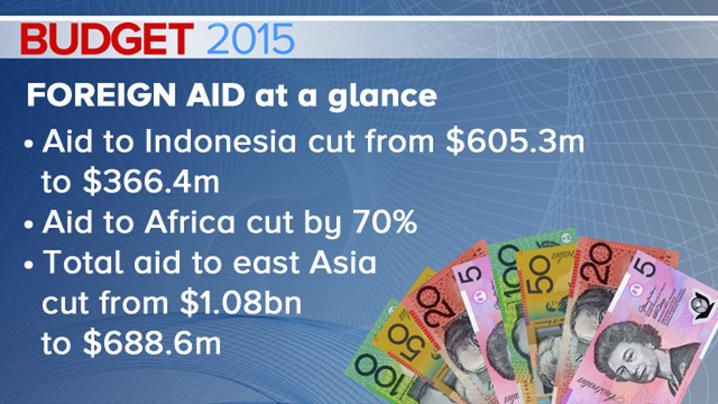 Aid to other countries also slashed by 40 per cent
The cut, which equates to 40% of the Australian aid budget to Indonesia, was among the $1 billion worth of foreign aid cuts announced in Tuesday night's federal budget.
Under the new plan, nonhumanitarian aid for Indonesia will go from more than $600 million this year to $366 million next year. Nonhumanitarian aid is used by poorer countries to build health facilities and schools.
Other Asian neighbors including Vietnam, the Philippines, Burma, and some countries in Africa also suffered similar 40% cuts to their aid programs.
In contrast, Australia's nearest neighbour, and biggest aid recipient, Papua New Guinea, faces a 5% cut, or $23.5M, to $553.6 million.
Overall aid to earthquake-ravaged Nepal will be cut from $33.9 million to $26.8 million.
But Vanuatu, hit by a cyclone earlier in 2015, gains an extra $500,000 this financial year with $60.9 million in overall aid.
Aid to Sri Lanka, Afghanistan, Pakistan and Bangladesh and Sub-Sahara Africa will be cut by 40 per cent.
Foreign aid to Africa cut by 70pc; contributions to Indonesia nearly halved
Australia's foreign aid to Africa has been cut by 70 per cent and the contribution to Indonesia nearly halved, the latest budget has revealed.
Foreign aid contributions will be reduced by a further $3.7 billion over the next three years.
Aid groups were quick to condemn the news, saying the cuts would cause widespread damage to programs operating in affected countries.
Marc Purcell from the Australian Council for International Development said the new cuts would hurt Australia's interests in the countries affected.
"Seventy per cent cuts to aid programs in Africa, where it has 18 of the poorest countries in the world," he said.
"We said we'd never cut and run in Afghanistan, but there's going to be nearly a halving of the Australian aid program to Afghanistan.
"And closer to home, countries like Burma, where we've got newly emerging democracy, but a lot of conflict, 40 per cent cuts there."
Aid cuts described as 'the biggest cuts ever to Australian aid'
The foreign minister says Australia will provide an estimated $4 billion in Official Development Assistance in 2015-16, including a $50 million gender equality fund. Last year the figure was $5.042 billion.
Care Australia CEO Dr Julia Newton-Howes described the year-on-year reductions as "the biggest cuts ever to Australian aid", reducing it to 25 cents of every $100 of Australia's national economy.
"Prior to this budget, Australia's international aid program – once one of our country's proudest international achievements – had effectively become the government's ATM; the place to withdraw funding on a whim," she said.
"It will take many years for Australia's aid program to recover from the damage that has been inflicted, and so we call on the Government to make good on its pre-election promise to, like many like-minded economies, bring international aid to 0.5% of Gross National Income."
World Vision CEO, Tim Costello said almost $600 million in savings came from the Asia-Pacific bilateral program.
"The Abbott-Hockey Government has destroyed our aid program to Africa," he said. "So many countries in Africa still have such massive and immediate needs in basic health and primary education – I don't understand how we can decide that it is OK to shrink our aid to a tertiary scholarship program."