Protest carried out in Lakemba condemning the raids and arrests
Terrorism threats are imminent says Prime Minister Tony Abbott
A violent attack was going to be carried in public says Federal Police Chief
Sydney (Tribune International Report): : The Australian Federal Police and New South Wales State Police have conducted the biggest anti-terrorism operation ever held in Australia,  Muslim populated suburbs of Sydney and Brisbane in early dawn of Thursday (September 18, 2014).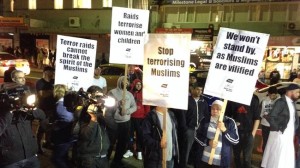 More than 800 police launched raids on houses and vehicles across Sydney's west and north-west, and Brisbane's south. In Sydney, police raided properties in Beecroft, Bellavista, Guildford, Merrylands, Northmead, Wentworthville, Marsfield, Westmead, Castle Hill, Revesby, Bass Hill and Regents Park.
Australian intelligence agencies and police alleged that the raids foiled a plot involving a man believed to be Australia's most senior Islamic State member who called contacts in Australia and asked them to carry out a campaign of random public beheadings in Sydney and Brisbane and the suspects were planning to snatch and behead a random member of the public, then drape them in the flag of Islamic State.
According to acting Commissioner Andrew Colvin one person had been charged with serious terrorism offences and 14 others detained in these
raids in Sydney and Brisbane involving in terrorism plots. Mr Colvin said police acted after there was intelligence to suggest a violent attack was going to be carried out on random members of the public. One weapon had also been seized during the raids according to the police sources.
Prime Minister Tony Abbott fully endorsed the counter-terrorism raids and said that the reports were indicating people in Australia were allegedly planning a public beheading to be carried out in the name of militant group Islamic State in Iraq and Syria. He said that a senior member of Islamic State, who is an Australian, had urged supporters at home to carry out 'demonstration killings' in Australia. On the other hand, New South Wales Police Commissioner, Andrew Scipione, did not comment on whether those arrested and charged had links to Islamic State, saying all the information would become clear when the accused appeared before court.
Senator Bernardi who has been condemning face-covering (Burqa) of women again reiterate arguing that it is a "symbol of female oppression and Islamic culture", carries security and identification risks and is "un-Australian".  He said on Twitter on burga as a "shroud of oppression". Labor leader Bill Shorten commenting Bernardi remarks as 'stupid' and 'ignorant' from a member parliament.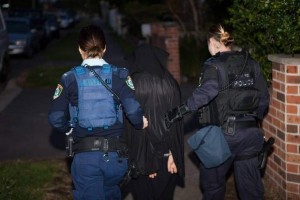 In Sydney, an Afghani background man, Omarjan Azari, 22 years old, was brought to the court yesterday on a charge of conspiracy to commit a terrorist act. Prosecutors allege that he was part of a plan to commit an act to 'shock, horrify and terrify' the community. On Thursday early morning, in Wentworthville Police blocked a street and raided a unit. They were searching bushes and driveway while people in the street were watching from their balconies. A similar kinds of raids were also executed by squads of Federal and NSW Police with sniffer dogs Marsfield and Guildford.
In Brisbane, three search warrants were also carried out in Brisbane in the suburbs of Logsn, Mount Gravatt East, and Underwood, raids occurred prior to the arrest and charged a man in Brisbane with terrorism-related offences. A Muslim man, Omar Succarieh, 31 years of was charged last week after federal police raided his Islamic bookstore in the Southern Suburb of Logan. Mr Succarieh has been charged with providing financial assistance to terrorist group Jabhat al-Nusra, which is linked to al-Qaeda. He was also charged with planning to enter Syria to 'engage in hostile activities'.
Many people linked these threats to the measure Australian government want to show to the world leaders in relation to the coming G-20 Summit to be scheduled coming weekend in Cairns and in November in Brisbane. However, Queensland Police Commissioner Ian said this morning's raids had not affected planning for the G20. It is to be noted that Australia's terrorism threat level has been increased to high about a week ago which means a terrorist attack in Australia is now officially considered as likely to happen.
Last night, a demonstration against the police raids were held in Muslim populated suburb of Lakemaba. Few hundred people gathered outside the Lakemba station with slogan against Police hostile act during operations on private houses. Speakers at the protest said that there were not there to interfere with security, despite what many believed but want fair and equal treatment with members of the Islamic Community. They said that they were not there to determine guilt or innocence but concerned about wrong treatment to many innocents. The speakers said that women and children had been terrified during the raids, doors and windows were smashed, and hands were cuffed of the people who were not shown any evidence they were involved in any terrorist activities. They people in the protest were raising slogans 'Terror raids can't break the spirit of Muslims' and 'stop terrorising Muslims'.