Almost half of all Australians are keen to take to the skies through a career in aviation, with jobs at Virgin Australia and Qantas among the most sought after, a survey says.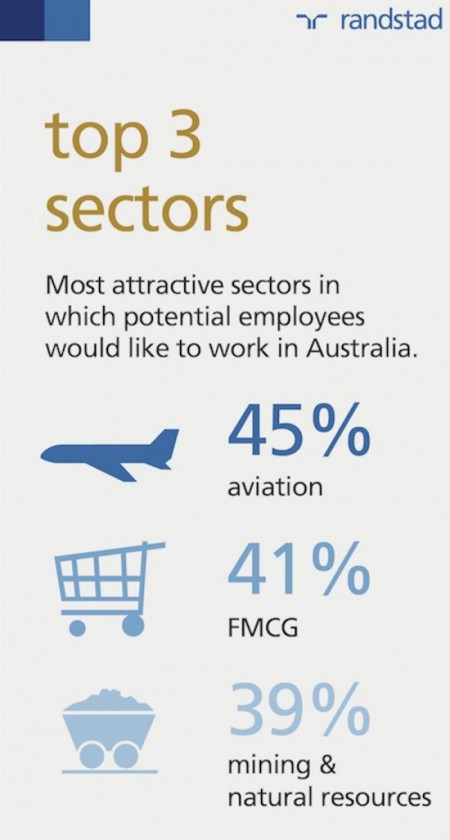 Virgin was named the nation's most attractive employer at the Ranstad Awards in Sydney on Thursday, with half of those surveyed saying they would like to work for the John Borghetti-led carrier.
The report said Virgin was "particularly attractive when it comes to having a pleasant working atmosphere, a good work-life balance and strong management".
"Our people have been key to the successful transformation of the airline over the past few years, and this award is testament to their outstanding professionalism and dedication to excellence," Virgin group executive for people, culture and sustainability Geraldine Chin Moody said in a statement.
"Our focus is on supporting our team to actively manage their careers and develop to their full potential. Our people get opportunities to be involved in our transformational projects and build their skills internally."
Qantas was recognised as the fifth most attractive employer in the country, behind Virgin, the ABC (2nd), the Department of Immigration and Border Protection (3rd) and the Seven Network (4th).
The Flying Kangaroo was also recognised as the most attractive employer for the younger generation.
More broadly, 45 per cent of those surveyed said they would like to work in the aviation industry.
"Organisations such as those who are recognised in the Randstad Award, who act positively and clearly communicate to their staff the value of the work they do and the role they play in society, have an opportunity to not only build trust, but to also attract bright and ambitious people to work for them," Ranstad Australia chief executive Frank Ribuot said.
The survey interviewed 12,002 Australians of working age between September 8 and December 23 2014.