The Sydney native thanked his family and called for the release of his two colleagues who remain behind bars
BRISBANE, Australia – Peter Greste, the Al Jazeera journalist, arrived back in his Australian homeland early Thursday morning after more than a year in an Egyptian prison.
Greste, 49, was released on Sunday after 400 days in a Cairo jail and had been in Cyprus since. He had been sentenced to seven years on charges that included aiding a terrorist group in a case that had attracted widespread attention and criticism of Egypt's leadership and judiciary.
"I can't tell you how ecstatic I am to be here. This is a moment that I've rehearsed in my mind at least 400 times over the past well, 400 days," said Greste after embracing well-wishers on his arrival in Brisbane.
After arriving back home, Greste has called for the release of two colleagues still in custody.
Greste's colleagues, Canadian-Egyptian Mohamed Fahmy and Egyptian national Baher Mohamed, remain in prison. They were jailed for between seven and 10 years on charges including spreading lies to help a terrorist organization – a reference to the outlawed Muslim Brotherhood.
His colleagues Baher Mohamed and Mohammed Fahmy remain in prison in Cairo.
"It was tough leaving them behind. A real part of me feels that I should have dug my heels in," and refused to leave the prison without them, Peter told BBC News, while acknowledging that would have been "the wrong decision."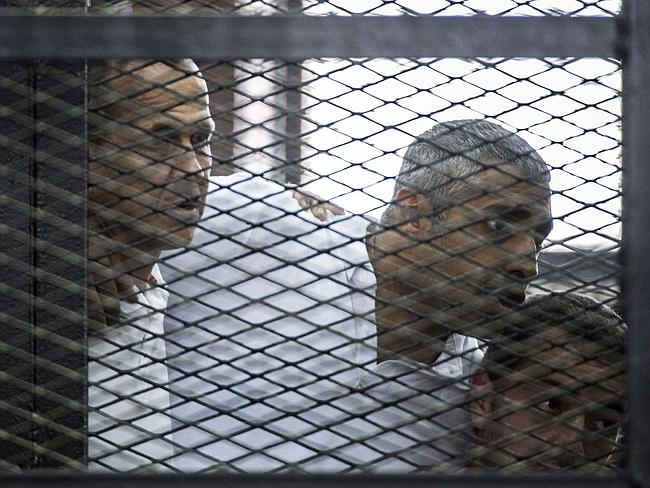 Mr Greste and two colleagues were arrested in 2013. They were convicted of spreading false news and aiding the banned Muslim Brotherhood. Egyptian authorities accuse Qatar-based Al Jazeera of being a mouthpiece of the Muslim Brotherhood, the movement the army removed from power in 2013. Al Jazeera denies the allegations.
The journalists say they were doing their jobs when detained. Their imprisonment reinforced the view of human rights groups that the government was rolling back freedoms gained after the 2011 uprising that toppled autocrat Hosni Mubarak.
They were detained in December 2013 and charged with helping a terrorist group by broadcasting lies that harmed national security.
The jailing of the journalists sparked an international outcry.
From being told he was out to leaving the jail happened in less than one hour and he detailed his roller coaster ride of emotions in just that space of time as a "sense of relief and excitement but also real stress in having to say goodbye to my colleagues and friends — people who've really become family inside that prison".
After 13 months in an Egyptian prison, which he said felt like a "near-death experience," Greste plans to spend time with his family before resuming his work as a correspondent.