Sydney New Year's Eve celebrations honour Bowie, Prince and Wilder
From Sydney to Melbourne to Adelaide, festive crowds gathered to say goodbye to 2016 and welcome 2017.
Australia rang in the New Year with a spectacular fireworks display in Sydney, sending rainbow-coloured showers into the night sky and defying the global terror attacks that cast a pall over 2016.
Around 1.5 million people flocked to the shores of Sydney's harbour foreshore to celebrate the first moments of 2017 and watch the city's famed fireworks displays, which paid tribute to some of the musical legends who died in 2016.
David Bowie, Prince, and Gene Wilder were celebrated in the 12-minute midnight display, which also drew inspiration from a 3D paper sculpture of the city that recreated Sydney landmarks with native flowers.
According to research done for the City of Sydney, up to 46% of spectators on the harbour travel from overseas to see the event, which is worth $130m to the economy in New South Wales.
Melbourne New Year's celebration
Melborune welcomed the New Year in style as hundreds of thousands flocked to the CBD to witness the biggest show of fireworks the city has ever seen.
Tonnes of fireworks were shot from 22 city buildings in a 10-minute display at midnight, synchronised to a soundtrack.
More than 500,000 revellers defied recently foiled terror threats as beefed-up police numbers and scores of CCTV cameras monitored the New Year's Eve celebrations to ensure public safety.
Tamarah de Vries had come down from the Sunshine Coast in Queensland with her family, they'd reserved a prime spot along the Yarra to see the fireworks for a picnic with nibbles. "It's amazing, Melbourne's got a great vibe about it tonight," Ms de Vries said.
"We'll definitely be grabbing some of Melbourne's famous coffees later though, so we can make it til midnight.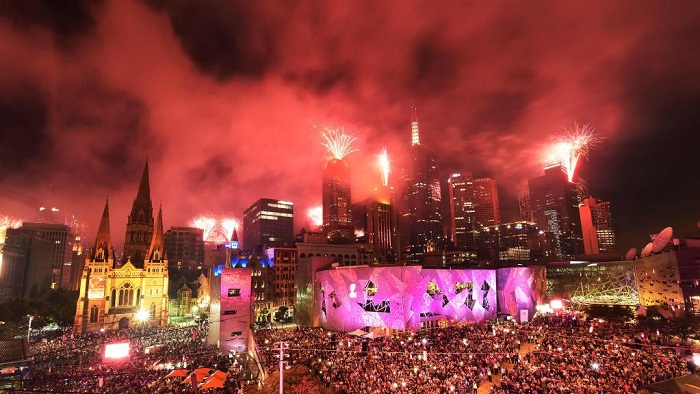 Celebration in Adelaide
In Adelaide, tens of thousands of people flooded Elder Park, while masses of people also took to the coast at Semaphore, Glenelg and Brighton.
Street performers, face painters, live music and food stalls entertained the crowds at Glenelg, 20 minutes from the city's CBD.