Tony Abbott and Chinese president Xi Jinping have officially concluded negotiations over a historic Free Trade Agreement (FTA), which will deliver at least $18 billion over a decade that maintains full scrutiny of investments by Chinese state-owned ­enterprises.
According to the Australian, the deal will cement China's relationship as Australia's biggest trading partner, with two-way trade worth more than $150bn a year bringing Beijing and Canberra closer.
Trade Minister Andrew Robb and his Chinese counterpart, Gao Hucheng, has also signed a "declaration of intent" on the deal which will dramatically increase market access for ­Australian farmers, services and manufacturers.
Under the deal, 85 per cent of all Australian exports will enter China tariff-free. This is expected to rise to 93 per cent within four years and 95 per cent when the deal is fully in force in more than a decade.
Xinhua News Agency says the breakthrough brings in "epochal bilateral co-operation" and "has placed Beijing and Canberra on a new starting line". However, it reminds that "this moment of victory should not breed complacency". "The progress is also hard-earned. China and Australia do not always see eye to eye, and their FTA process was full of twists and turns," notes the news agency.
"The fact that they have overcome various hurdles and reached the present stage amply demonstrates that they have both the will and the wisdom to chart a win-win course for bilateral engagement," it adds.
The People's Daily assures that China is "determined to develop peacefully". The daily repeats Mr Xi's call to forge closer ties with Australia, and urges both countries to continue to gain mutual trust and "build a harmonious and prosperous Asia Pacific together".
Zhang Haisen, an expert on international agricultural co-operation at the University of International Business and Economics, tells the China Daily that the agricultural initiative "has unprecedented scale and will be an ongoing benefit to China, whose domestic production has been limited by fodder and food safety concerns".
What does the Chinese-Australia free trade agreement mean?
For Australia:
The deal will allow direct investment in China by hotel and tourism operations in Chinese hotel­s and restaurants. Australian health and aged-care providers will be allowed to own Chinese hospitals and aged-care facilities.
According to a report by Sydney Morning Herald, when the agreement is signed and fully implemented (that may take a number of years) 95 per cent of Australian exports to China will be tariff-free.
For Australian service providers, manufacturers and agricultural producers who already export to China, it will offer much greater access to the markets in which they operate, which means companies that do not export to China may now have reason to do so.
Under the agreement, Australian services providers will be given priority access to the Chinese market, including allowing Australian tourism operators to buy hotels and restaurants, and insurers to access the third-party insurance market. For Australian business owners, that will create the potential for increased volumes into China – and increased profits.
Australian consumers will also benefit from the deal as the cost of living in Australia is expected to be reduced. Australians will enjoy cheaper household goods, electronics and clothing from Chinese companies, while Chinese vehicles and component parts will also be cheaper.
For China:
The deal, the result of decade-long negotiations, will open up markets worth billions of dollars, giving Australian dairy farmers, winemakers and other sectors tariff-free access to the huge Chinese market within a few years.
According to AsiaOne, the deal means China will get better access to Australian products like diary, meat, wine, minerals, wool and agricultural products. 85 per cent of the products from Australia will enter the Chinese market tariff-free. Eventually, the historic deal will phase out tariffs for 95 per cent of goods.
Meanwhile, China is seeking greater access for its investment projects, news reports say. The agreement will also cover travel visa, e-commerce, government procurement, services and trade rules. Chinese producers will get a more stable supply of bulk commodities including minerals. This will reduce the imported inflationary pressure on China.
Australia, China ties to boost economic capacity and growth
Australian banks have the green light to expand branch networks in China, local fund managers will be able to invest on behalf of Chinese institutions, and Australian insurers will write Chinese third-party motor vehicle insurance contracts as the historic free trade agreement creates a wave of opportunities in financial services, according to a report.
"This is a huge day," said Westpac's head of greater China Andrew Whitford. "What this offers is much deeper access to China's financial markets and it is unprecedented in that no other country has got this access."
Advertisement Westpac, National Australia Bank and ANZ Banking are moving already to strengthen ties with some of China's largest financial institutions. Until now Australian banks' China banking licenses have been heavily restricted. But under the FTA, the waiting period for local currency business will be cut to one year, the profit-making requirement removed and China will fast-track approval for additional branches to work in RMB, allowing them to take Chinese deposits, make loans and provide foreign exchange.
Commonwealth Bank of Australia chief Ian Narev said the agreement continued to pave the way for the ongoing development of business opportunities for both Australian and Chinese businesses and would help strengthen the economies of both nations.
Macquarie Group is set to benefit from provisions allowing Australian banks to enter futures markets for the first time, through joint ventures that can be 49 per cent Australian-owned, and allowing participation in underwriting Chinese equities issuance. Private equity firms will also be encouraged to do deals in China.
Insurers are also winners, gaining access to China's statutory third-party liability motor vehicle insurance market.
Australia and China to focus on Antarctica Exploration
Australia and China have inked a memorandum of understanding  pledging to strengthen bilateral Antarctic cooperation. Chinese President Xi Jinping and Australian Prime Minister Tony Abbott witnessed the signing of the deal in this port city in Tasmania state, Australia's gateway to Antarctica. The two leaders also spoke via live video with scientists of both countries stationed at the South Pole, respectively from Australia's Davis Station and China's Zhongshan Station.
Scientific research in the Antarctic region is of great significance and benefits the human race, Xi said, adding that China's expeditions have contributed to the peaceful utilization of Antarctic resources.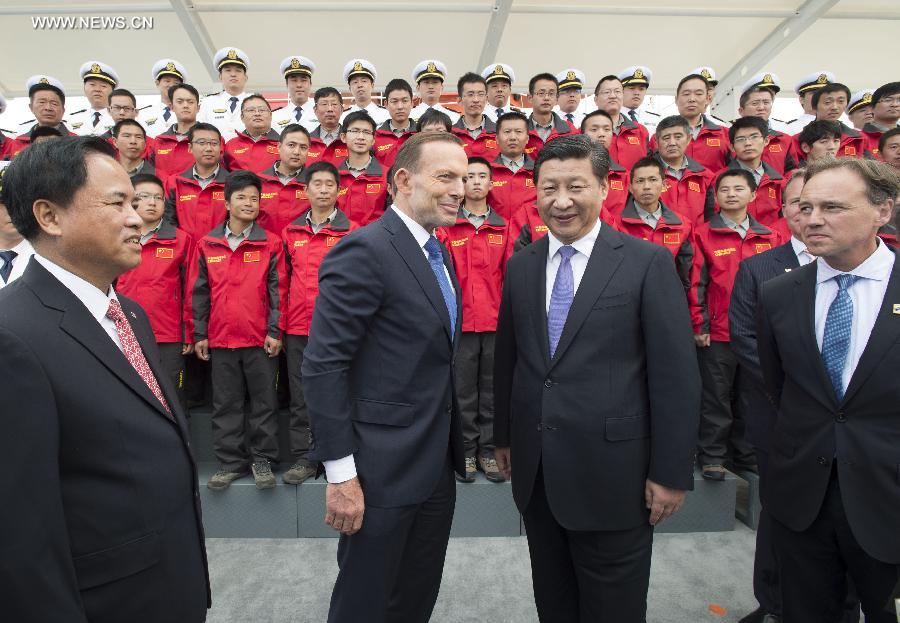 Speaking highly of the comprehensive and in-depth collaboration between Chinese and Australian Antarctic researchers over the past three decades, Xi said China is willing to continue working with Australia and the international community to better understand, protect and utilize Antarctica.
For his part, Abbott said he looks forward to closer bilateral cooperation in Antarctic research. After the signing ceremony, Xi boarded Chinese research vessel and icebreaker Xuelong, or Snow Dragon, which is berthing at Hobart port for replenishment.
The vessel, which set out from Shanghai late last month, is undertaking China's 31st Antarctic expedition. It is scheduled to return in April next year.
The Chinese president is on a state visit to Australia after attending a Group of Twenty summit in Brisbane. Australia is the first leg of his ongoing three-nation tour, which will later take him to New Zealand and Fiji.