AUSSIE girl Kate Stahl is officially a Countess after marrying Graf Count Anton Andreas von Faber-Castell in a stunning ceremony at his family's castle in Germany yesterday.
Stahl, from Turramurra in Sydney's north, became Kate Graefin von Faber-Castell in front of 300 guests at the pencil and stationery heir's family castle.
The couple met at a friend's party in Wahroonga in Sydney's north when they were just 15 and instantly became best friends, but it was only four-and-a-half years ago that their love blossomed.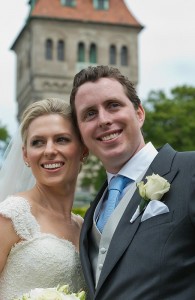 Both happened to be in the US in November 2009 and the rest is history.
"To say it's a big day would be an understatement. It is THE biggest day," the Groom told The Daily Mail on the day.
"I am very excited. Kate is a wonderful woman and I am sure she will make a wonderful wife. I am so lucky. One day we hope to move back to Australia, but for now we will still be living in Munich."
The bride's mother Jill Porse added: "I am as excited as you might expect me to be. Tony [the groom] and Kate have known one another a long time and I am so happy for both of them.
"I would love for them to come back and live in Australia, but I think it will be some time away yet. They have known each other for so long, first as friends and then as something much more, that I know they will be happy together. They grew up together and now they will grow old together.
"We had a fabulous party in the castle last night. It was all dirndls and trachten, traditional Bavarian dress, and everyone had a great time."
Count Anton Andreas is the son of Count Andreas-Wilhelm von Faber-Castell who is the managing director of Faber-Castell Asia Pacific, one of the world's largest manufacturers of pens, pencils and office supplies.
300 guests attended an elegant, formal ball on Saturday evening at the turn-of-the-century complex, which was decorated in white hydrangeas after a church reception at Stein near Nuremberg,
The bride wore an original dress created by Australian designer Rhonda Hemmingway and pear-shaped 10-carat diamond earrings worth more than $250,000.
The ivory-white gown was made of Cantilly lace brocade hand made in France, finished off with a six foot train.
80 guests from Australia travelled over for the wedding.
The Countess said despite her fairytale coming true, she wouldn't get caught up in the princess-like tale.
"I haven't changed — I am still Kate! Only I am a married Kate now!" she said on the day.
"Regardless of the surroundings, for me I am so very excited to be marrying my high school sweetheart and best friend."
Kate moved from her hometown of Turramurra in Sydney's north to live in Munich with Count Faber-Castell nearly two years ago.
"This is where the relationship between us changed; we saw each other with different eyes," Ms Stahl said.
"By the end of the night we had mapped our next moves and future together. It felt so right."
Count Faber-Castell, now 31 and his wife 30, said he always knew this day would come.
"From the moment I saw Kate at that party, I knew she was the one and I will be so happy to call my best friend my wife."