AMISOM says report claiming soldiers assaulted girls as young as 12 and traded food aid for sex "unbalanced and unfair".
Internationally funded African Union troops in Somalia have gang-raped women and girls as young as 12 and traded food aid for sex, Human Rights Watch, the US-based rights group, says.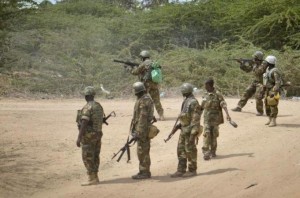 The 22,000 AU force, called AMISOM, with soldiers drawn from six nations, have been fighting alongside government troops against the al-Qaeda-linked al-Shabab fighters since 2007.
"Some of the women who were raped said that the soldiers gave them food or money afterwards in an apparent attempt to frame the assault as transactional sex," HRW said in a report on Monday.
AMISOM said the alleged rapes were "isolated" incidents and called the report "unbalanced and unfair".
The vulnerable women largely came from camps in the capital Mogadishu, having fled rural Somalia during a devastating famine in 2011.
AMISOM donors include the US, EU and the US.
The AU soldiers, "relying on Somali intermediaries, have used a range of tactics, including humanitarian aid, to coerce vulnerable women and girls into sexual activity", the report read, based on testimonies of 21 women and girls.
"They have also raped or otherwise sexually assaulted women who were seeking medical assistance or water at AMISOM bases."
The youngest interviewed was aged just 12, who said she was raped by a Ugandan soldier.
Babies need medicine
Several of the women described how they had gone to the AU camp seeking medicine for their sick babies.
"The findings raise serious concerns about abuses by AMISOM soldiers against Somali women and girls that suggest a much larger problem," HRW said.
However, Burundian General Silas Ntigurirwa, AMISOM's commander, said the report documented "allegations of isolated cases of rape", and that his troops were given strict orders against raping and looting.
Eloi Yao, AMISOM spokesman, said the "allegations will be properly investigated and measures taken".
Only in two cases had the women who spoke to HRW filed police complaints, because they "feared stigma, reprisals from family, police, and the Islamist insurgent group Al-Shabab".
The cases investigated by HRW involved troops from Burundi and Uganda.
HRW said the AU force needed to end the abuses carried by its troops.
"The AU military and political leadership needs to do more to prevent, identify, and punish sexual abuse by their troops," Daniel Bekele, HRW Africa head, said.
AMISOM troops last month launched a major offensive aimed at seizing key ports and cutting off an important source of revenue for the fighters.