Sydney (AFAIC Report); Afghan Fajar Association Incorporated (AFAIC) was the host of a community consultation forum and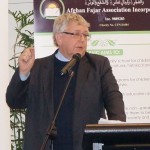 Q&A in regards to proposed legislative changes to the Racial Discrimination Act with over 100 people in attendance. The current Government plans to amend part of Australia's racial discrimination laws by real of the s18C of the Racial Discrimination Act 1975.  The changes come in response to the high-profile case of Andrew Bolt, a conservative commentator who was found to have broken the law over the articles he wrote in 2009 about the skin colour of people who identify as Aboriginal. Attorney-General George Brandis says the Government's planned amendments 'will ensure that can never happen in Australia again'. AFAIC hosted the community forum, having government representatives and a multicultural community audience. It was a night of extraordinary discussion and Q&A with panellists from many different sectors. Among them were: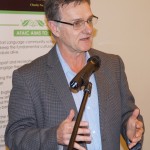 Dr Andrew McDonald who is the State Member of Parliament for Macquarie Field.
Anthony Pang, a member of the UN lobby group advocating against changes made to the s18C of the Racial Discrimination Act
Lucy Morgan is the Information and Policy Coordinator at the Refugee Council of Australia, the national umbrella body for refugees, asylum seekers and the organisations and individuals who support them.
Said Ahmad Hossaini, an Islamic scholar, and international preacher in Australia, Asia, America and Europe, and also a TV producer and presenter of Islamic contents.
Syed Atiq ul Hassan who is a Sydney-based active Community Leader, Journalist, and an Educationist. He is the founding director of famous Chand Raat Eid Festival.

Mohamed Taha

Sayed Rahmatullah Hussainizada who is the Public Officer for Afghan Fajar Association Incorporated. His involvement in the community is complimented with his keen interest for human rights and social justice and renowned face in the community with many international conferences.

Mohamed Taha who was the moderator for the program. He is a broadcast journalist from the ABC. He is part of the recently established Western Sydney bureau in Parramatta and reports widely on TV, radio and online on a range of stories in the region.
It was a night of elaborative discussion with many emerging cultures on an issue that focuses on multiculturalism and how the changes in legislation affect these communities. The program had
attendees from the South-Sudanese, Asian, Arab, Bengali, Pakistani, and Afghani communities. AFAIC provided the platform for a
much needed and vital discussion on the potential rise of racism due to the proposed repeal of the
s18C of the Racial Discrimination Act.