By Syed Atiq ul Hassan
With the consent of foreign powers supporting Pakistan, the Pakistani establishment, bureaucracy, and judiciary are in the making of a new national party and its leader in Pakistan.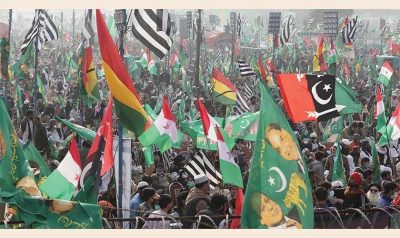 My sources claim that the leader of this newly formed party will be from Karachi, however, it will not be Altaf Hussain. The Pakistani army, agencies, bureaucracy, and judiciary have now concluded that Imran Khan's political campaign has eroded their public support. MQM, Muslim League (N), Pakistan Peoples Party, and the other parties in Pakistan Democratic Movement (PDM) have lost popularity among the people, and they will be horribly defeated in the forthcoming national election if held this year. PTI has a high chance of winning, therefore, the establishment will crash PTI, charged Imran Khan with serious cases and he will be behind the bars for a long sentence before the next election. Imran Khan will not be allowed to run in the next election.
On the other hand, a new party will be brought into the national politics of Pakistan. This new party will be fully backed by the establishment, the United States, the United Kingdom, and the Arab states. The United States will pour money into the making of the new party and participating in the next election.
Sources also say that the establishment has now concluded that Pakistan's current political parties and their leaders, except Imran Khan, are unpopular in the country. Therefore, investing more money and supporting them will have worthful results. The only solution is to bring a new party and a new political leader into the political field. The leader of the new political party is from Karachi because it is necessary to use Karachi to launch any new political movement in Pakistan.
This entire game will take 12 to 18 months for the establishment, hence, the next election will unlikely be held this year. Therefore, the establishment, bureaucracy, and judiciary will keep lingering in the present set-up. During this time, Imran Khan and PTI will be systematically de-popularized through a massive media campaign against Imran Khan and PTI and filing serious charges against Imran Khan. Consequently, Imran Khan will be jailed for a long sentence. The establishment will break up PTI and bring other PTI frontline to lead the one faction of the PTI. (The writer is a senior journalist and a political analyst, his email address is shassan@tribune-intl.com)
[END]