The project of Sindh Engro Coal Mining Company will initially provide 660 MW of power for Pakistan's energy starved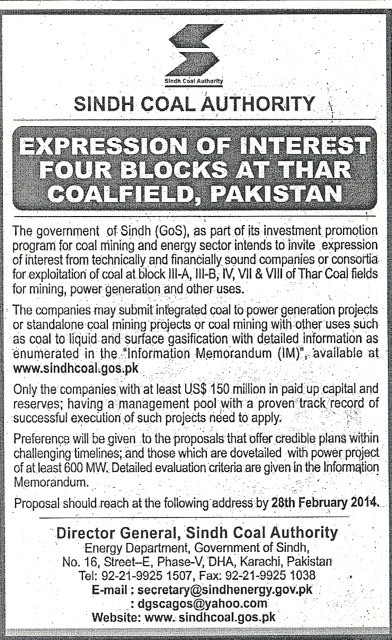 industrial units. It will complete in 2017 and help spur economic development and bring energy security to the country.
Engro had started a joint venture in power sector with Sindh Government by acquiring Block-II of Thar Coal area, comprising 100 square kilometre, the availability of two billion tonnes coal has been estimated and in the first phase, the process of coal mining and establishment of power project, will be completed with 1.6 billion dollars in three and half years. Initially, the project will generate 660 Megawatts electricity, however, the completion of other phases will help in generating 5,000 megawatts electricity.
The project in Block-II of Tharparkar District is spread over an area of 79.6 square kilometres. According to a feasibility study, the project is commercially viable and has no significant environmental threats and social implications. In the Phase I, the project will develop coal mining and power project with a capacity of 3.8 million tonnes per annum and 660 MW. Subsequently, the mine will be expanded to a coal capacity of 6.5 million tonnes per annum to support a 1300 MW power plant. In Phase II, it is planned to expand mining project to 13.5 million tonnes and 19.5 million tonnes, with a power generation capacity of 2400 MW and 3600 MW. The Thar coal field has an estimated lignite reserves of 175 billion tonnes, equivalent to total oil reserves of Saudi Arabia and Iran combined and can be used to produce 100,000 MW for 300 years.