London, (October 28th) – The World Halal Business Conference Circuit 2023 (WHBC), the preeminent international conference for the global Halal industry, successfully concluded its annual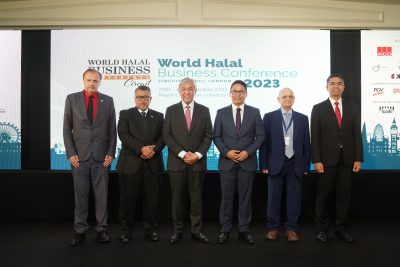 event, leaving attendees with enlightening perspectives and a robust vision for the sector's future. This marked significant progress in the Halal industry and the strengthening of international relations.
The conference fostered an environment for knowledge exchange, networking, and strategic collaborations. It showcased evolving trends, potential opportunities, and critical challenges in the Halal industry. With compelling presentations, innovative workshops, and insightful panel discussions, WHBC Circuit 2023 framed a constructive dialogue about enhanced sustainability, resilience, and inclusivity in the Halal industry.
WHBC Circuit 2023 made a resounding statement by placing the spotlight on Halal Diplomacy initiatives at the event's opening. The conference's focus on diplomatic outreach within the Halal industry underscored its role as a catalyst for global cross-cultural collaboration and understanding.
"WHBC Circuit's emphasis on Halal Diplomacy initiatives reflects our commitment to fostering robust international relationships in the Halal industry," affirmed Khairul Azwan Harun, Chairman of Halal Development Corporation Berhad (HDC), Malaysia. "These measures open channels for understanding, cooperation, and shared growth, positioning the Halal industry as an agent of economic and diplomatic unity."
In all respects, WHBC Circuit 2023 was deemed a stellar success, marked by significant partnership commitments, fruitful collaborations, and ground breaking initiatives. Key accomplishments include collaborations between HDC and the Malaysian Palm Oil Certification Council (MPOCC) to promote sustainability. Additionally, the Deputy Prime Minister announced RM2.67 billion in financing facilities aimed specifically at bolstering the Halal sector. However, the milestone that truly signifies our commitment to innovation is the launch of the National Digital Halal Platform (NHDP), revolutionizing Halal certification management.
The closing ceremony was a fitting finale to an event that witnessed global experts, industry leaders, and promising innovators converging on a single platform. From the official keynote by the Deputy Prime Minister of Malaysia, The Right Honorable Dato' Seri Dr. Ahmad Zahid Hamidi, to the insightful sessions on Islamic Finance, accelerating E-commerce, and enhancing supply chain resilience, every moment at the conference left a resonating impact.
Following the event's conclusion, Hairol Ariffein Sahari, Chief Executive Officer of Halal Development Corporation (HDC), Malaysia, expressed HDC's commitment to strengthening international relations within the Halal ecosystem and the determination of HDC to facilitate engagements that spur creativity, inspire innovation, and foster fruitful collaborations.
"Building on the momentum generated at WHBC Circuit 2023, we are excited to announce that the next edition, WHBC 2024, will take place in one of the Organisation of Islamic Countries (OIC). The region has consistently demonstrated significant interest in the Halal market, making it an ideal location to continue building upon the important topics and issues discussed this year," said Hairol.
"We invite industry leaders, experts, and Halal enthusiasts to mark their calendars for WHBC 2024 and join us for another exceptional event that promises further insights, innovation, and inspiration in the world of Halal business."
The WHBC Circuit 2023 thanks its key strategic partners, including Want Want Group, ACO Water Management Sdn Bhd, KLK Berhad, Allanason Ptv Ltd, PIJ Holdings Sdn Bhd, London Tea Exchange, UK, Fraser & Neave Holdings Berhad, Ketengah Holding Sdn Bhd, Digital Panacea, Malaysia, TheNoor, CPL Aromas (Malaysia) Sdn Bhd, Sunrich Starhill Sdn Bhd, Malaysian Palm Oil Certification Council, Ramly Food Processing Sdn Bhd, FGV Holdings Berhad, Malaysia Aviation Group Berhad, Halal Food Authority, UK, British Malaysian Chamber of Commerce, and Islam Channel UK. Supporting agencies for this conference include MATRADE, JAKIM, MIDA, MARA, and the Ministry of Foreign Affairs.
The WHBC Circuit 2023 is a prominent international industry event committed to enhancing the Halal industry globally. Through innovation, thought leadership, sustainable practices, and inclusive growth, WHBC Circuit is playing a seminal role in shaping a sustainable, thriving, and future-ready Halal industry.
For detailed information on the complete WHBC Circuit 2023 program in London, please visit the official website at https://whbc.hdcglobal.com/programme/.
[HALAL DEVELOPMENT CORPORATION BERHAD (HDC) spearheads the development of Malaysia's integrated and comprehensive halal ecosystem and infrastructure to position Malaysia as the most competitive country leading the global halal industry. Established on 18 September 2006, HDC as it is also known, is the central coordinator that promotes participation and facilitates growth of industry players in the development of Malaysia's Halal ecosystem.  An agency under the Ministry of Investment, Trade and Industry; it is the world's first Government-backed halal industry development corporation. For more information, please visit HDC at – www.hdcglobal.com. Norsida Ahmad | +6012 3249703  norsida.ahmad@hdcglobal.com.]
END