At least 260 people were killed and 1,440 injured during the attempt while 2,839 members of the army had been detained
A violent, chaotic night in Turkey concluded with at least 260 people dead, but the government said Saturday it remains firmly in control following a coup attempt by some members of the military.
A coup attempt by an army faction in Turkey has been defeated by the Erdogan government after thousands of people heeded a call from President Recep Tayyip Erdogan and took to the streets.
Turkey witnessed a chaotic night on Friday as tanks rolled onto the streets  of Istanbul, blasts rang out, hitting Parliament building while army helicopters fired at civilians.
However, Turkish people took to the streets of Istanbul, lining the sides of major roads and holding the red and white Turkish flag in support of the civilian government and against the coup attempt.
Several hours later, a government spokesperson said the coup had been defeated. "The coup attempt is foiled", Turkey's national intelligence agency announced.
Turkish Prime Minister Benali Yildirim said at least 161 people have died and more than 2,839 soldiers have been detained as government foiled the coup attempt. Another 1,400 people were wounded in the chaos.
Erdogan, who had been on a holiday when the coup was launched, flew into Istanbul before dawn on Saturday. Addressing thousands of flag-waving supporters at the airport later, he said the government remained at the helm, although disturbances continued in Ankara.
"Turkey has a democratically elected government and president," Erdoğan said after landing. "We are in charge and we will continue exercising our powers until the end. We will not abandon our country to these invaders. It will end well."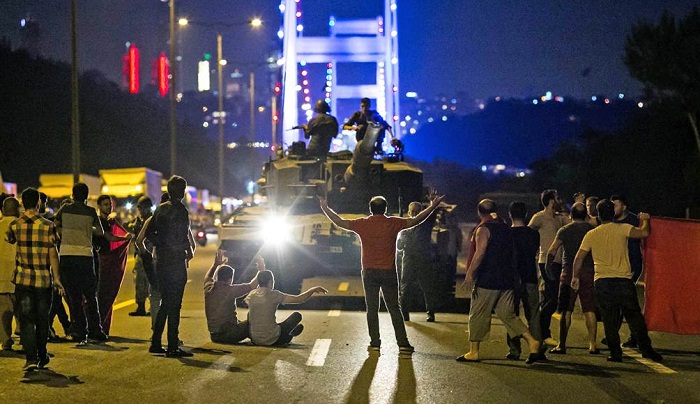 Erdogan accused the coup plotters of trying to kill him and launched a purge of the armed forces, which last used force to stage a successful coup more than 30 years ago.
"They will pay a heavy price for this," said Erdogan, who also saw off mass public protests against his rule three years ago. "This uprising is a gift from God to us because this will be a reason to cleanse our army."
Many soldiers involved in the coup surrendered after dawn on Saturday, abandoning their tanks with their hands raised in the air.
Factions within the military carried out the attempted coup. The leader is not yet known, but the prime minister said colonels were involved.
Turkish military did not appear unified in their endeavor, with top commanders taking to television, condemning the action and order troops back to their barracks.
Turkish people take to streets to protest coup attempt
Turkish people took the streets across Turkey to protest against an attempted military coup after a video message from President Recep Tayyip Erdogan which said: "I am calling on our nation. Go to the squares, let us give them the best answer."
People chanted slogans as "No coup" and gathered in public squares and streets in Ankara, Istanbul, Diyarbakir, Edirne, Hatay, Yalova, Erzurum, Izmir, Malatya, Eskisehir, Adana and several other provinces to protest the military uprising.
Addressing hundreds of thousands of citizens that gathered in front of the Istanbul Atatürk Airport, President Recep Tayyip Erdoğan said that Turkey would not be intimidated by illegal attempts to seize power. Saying that the law is above all in Turkey, the president said that people going into the streets to support it was "the best answer" to those who tried to forcefully seize power.
Turkish President thanked the citizens saying: "We are proud of you", adding an emphasis to "One nation, one flag, one homeland, one state," at the end of his address.