Parramatta, Report by Syed Atiq ul Hassan and Photograph by Surraya Hassan, 9 October 2023".
As referendum polling day rapidly approaches, a diverse gathering of Indigenous Australians, Anglo-Saxon Australians, and Multicultural Australians convened at Parramatta Square. Their shared mission: to bolster the last-minute campaign for recognizing Aboriginal and Torres Strait Islander people in the constitution through a Voice to Parliament. Indigenous leader Noel Pearson speech was very impressive. This momentous decision rests in the hands of all Australians on October 14, and it's an opportunity to resoundingly declare YES.
Underneath the radiant sun, the Square pulsed with enthusiasm and determination. Leaders and representatives of Aboriginal and Torres Strait Islander communities, politicians, community leaders, and a multitude of passionate activists lent their voices to a chorus of unity, declaring "We are Voting YES."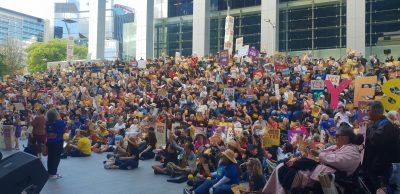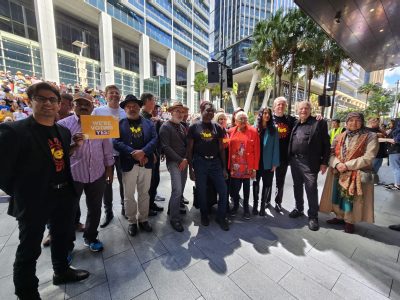 This October 14, 2023, Australians will cast their votes in a national referendum aimed at amending the Australian Constitution. The pivotal question at hand pertains to incorporating provisions concerning an Aboriginal and Torres Strait Islander Voice within the Constitution. This referendum, a rare opportunity for change, demands the approval of Australian citizens.
By law, every Australian citizen aged 18 and above must participate in elections and referendums. To ensure your voice is heard, please verify your enrolment status with the Australian Electoral
Commission.
Australia is at a juncture where it must progress and align itself with other developed nations globally. Recognizing this imperative, the Labor government has taken a monumental step toward establishing a constitutional voice for Indigenous and Torres Strait Islander Australians.
In pursuit of shaping Australia's identity with fairness and equality for every citizen, successive Australian governments have consistently advanced initiatives to improve the lives of Indigenous people, who have been custodians of this land for over 65,000 years.
Today, Australia stands as a steadfast multicultural nation, welcoming individuals from more than 200 different countries. This tapestry of diversity has fostered a climate of peace, harmony, and unity.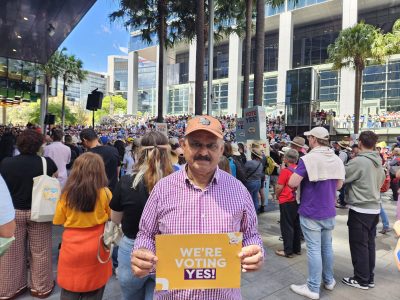 I wholeheartedly endorse the upcoming referendum and will cast my vote in favour of 'YES' for the inclusion of the voice of Indigenous and Torres Strait Islander Australians in our parliamentary system. Indigenous and Torres Strait Islander Australians deserve complete and equal rights in all aspects of life, including legal and constitutional processes. Australia's multiculturalism has united people from over 200 ethnic backgrounds, championing equal human rights. A 'YES' victory on October 14 will not only elevate Australia's global standing but also reaffirm our commitment to this noble cause.
Don't miss your chance to make history. Vote on October 14 at your nearest polling station.
(The writer is a Sydney-based journalist, analyst, and editor at Tribune International, Australia. His email is shassan@tribune-intl.com ).
[END]