Colombo (Media Release Foreign Ministry SL, 19 July 2023): The Minister of Foreign Affairs and President's Counsel Ali Sabry paid a courtesy visit to the Prime Minister of Thailand, Prayut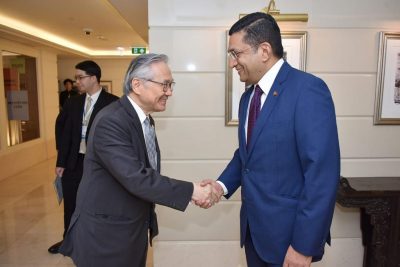 Chan-o-Cha, during his official visit to Bangkok, Thailand, to attend the BIMSTEC conference. Minister Sabry conveyed the warm greetings of President Ranil Wickremesinghe to the Prime Minister and engaged in a fruitful discussion regarding the enhancement of bilateral relations between Thailand and Sri Lanka.
Furthermore, a meeting was held with Deputy Prime Minister and Foreign Minister of Thailand, Don Pramudwinai, where productive deliberations took place on various matters of mutual interest. These discussions encompassed expediting the conclusion of negotiations on the Sri Lanka-Thailand Free Trade Agreement, promoting Sri Lanka as an appealing destination for Thai tourists, and exploring avenues for Sri Lanka's collaboration with the Regional Comprehensive Economic Partnership (RCEP).