Qantas finally buries the hatchet with Tourism Australia and sign multi-billion dollar deal
Qantas and Tourism Australia are back together in the mutual interest of increasing visitor numbers, four years after  they split over a conflict of interest.
Qantas and Tourism Australia have signed a $20 million three-year deal to promote the nation to the world, a big step in repairing its strained relationship.
Qantas Group CEO Alan Joyce and Tourism Australia Managing Director John O'Sullivan signed the deal on Aug 3, marking a new era of partnership between the two organisations.
The three-year agreement involves a joint investment from Qantas and Tourism Australia to attract more international visitors to Australia, with a focus on the United States, Asia, the United Kingdom and Europe.
Joyce said Qantas' multi-million dollar investment with Tourism Australia was about continuing the momentum of the tourism boom to deliver bigger benefits for Australia.
"Both Qantas and Tourism Australia want the same thing – a strong tourism industry that makes Australia the first choice for people all over the world. With tourism both to-and-within Australia on the rise, it's the ideal time for us to join forces once again," he said.
"Over the past two years, Qantas has been increasing capacity to destinations around the world, building our alliances with the world's biggest airlines, and investing in our fleet, lounges and technology to make sure that visitors to Australia get the best possible travel experience. This new investment builds on the marketing we already do and our partnerships with state and territory governments to put Australia's best foot forward.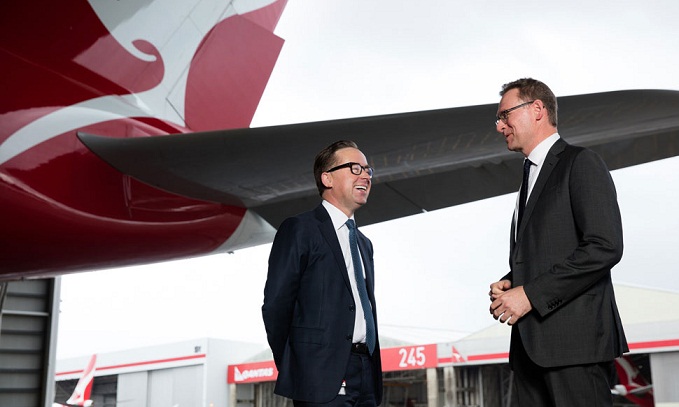 Tourism Australia Managing Director John O'Sullivan said he was extremely pleased to have a formal multi-year agreement with Qantas once again.
"When you consider the nature of our respective businesses, this is a deal which just makes sense – for Tourism Australia, for Qantas and, most of all, for Australian inbound tourism. The shared resources this agreement brings together are considerable and we're very excited about the opportunities that lie ahead to grow international inbound traffic and increase regional dispersal," said O'Sullivan.
Qantas invests more than $80 million in promoting Australia to the world.
With an emphasis on digital marketing, the new agreement will see Tourism Australia and the national carrier invest in joint campaigns that will be supported through public relations, social media and trade activities, and includes an anonymised data sharing arrangement to better reach customers considering travelling to Australia.
Australia's Trade Minister Steven Ciobo remarked: "The $20 million three year deal will see the two parties promote international travel to Australia with a focus on Asia, the United States and the United Kingdom. The combined expertise and resources of Tourism Australia and Qantas will help realise the growth potential of our key international markets."
The partnership will help grow international inbound traffic and, importantly, improve dispersal across regional Australia.
Trade Minister also informed that "in the most recent Budget the Turnbull Government announced a record investment of $629 million for Tourism Australia over four years."
Tourism Australia leverages the Government's investment with commercial partnerships, including with 19 airlines. In 2015 commercial partnerships resulted in an additional $60 million for marketing Australia overseas, he added.
International tourists spent $37.9 billion in Australia last year, with the tourism industry contributing $47.5 billion to GDP. The tourism industry is currently growing three times faster than the rest of the Australian economy. The tourism industry directly supports more than 580,000 Australian jobs.