Sydney (Tribune International Report, 31st Aug 2015); Australian Prime Minister Tony Abbott invited selected multicultural media personalities at the Prime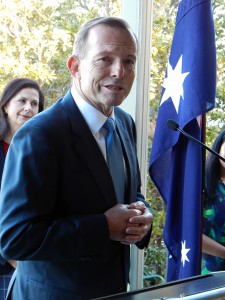 Minister (Kirribilli) House for tea. The Parliamentary Secretary for multicultural affairs senator Concetta Fierravanti-Wells and the first lady Mrs. Margaret (Margie) Abbott joined the Prime Minister Tony Abbott in welcoming the guests.
Addressing, the guests in his brief welcome speech, the Prime Minister Tony Abbott acknowledged the role of multicultural media. He said that today he felt an honour inviting everyone present at the prestigious Kirribilli house and that the people working in the multicultural media have chosen to promote multiculturalism in our society. He also said most of us are first or second generation migrants in Australia but it is the multicultural media who are playing a great in making us all one Australians and bringing everyone together.
Prime Minster Tony Abbott and Mrs. Margrie Abbott mingled with the guests meeting people individually in a very social and pleasant mode. The guests thanked the Prime Minister for providing such a unique opportunity to interact with the Prime Minister at the Kirribilli House.
The editor-in-Chief, Tribune International (Australia) also personally thanked to the Prime Minister for organising the event which was a first. He also acknowledged the Prime Minister Tony Abbott for his message for Chand Raat Eid Festival (CREF) 2015 (video below).