Nintendo's market value is now bigger than Sony's as its value jumped 14% to more than $42.4 billion, compared to $38.6 billion for their rivals. Last Friday, Nintendo set a record for the most shares ever traded daily in Japan, with their price having doubled since the launch of Pokémon GO earlier in the month.
On Tuesday, Nintendo shares finished trading another 14% higher, meaning they have doubled in value since the launch of Pokemon Go on 6 July. This puts Nintendo's overall market value at 4.36tn yen ($38bn; £28.8bn), topping Sony by 300bn yen.
The phenomenal success of Pokemon Go has surprised even seasoned market players. Nintendo certainly was hoping for a hit, but even it must have been somewhat caught off guard by the frenzy its little virtual creatures have created around the globe.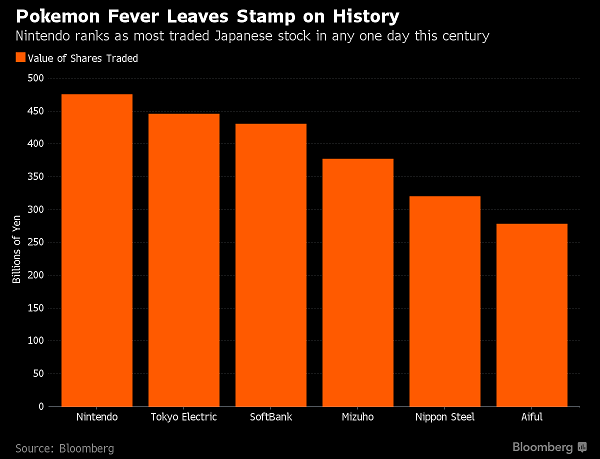 "Pokemon still has huge potential – just think of the intellectual property rights to the characters for instance," explains Gerhard Fasol of Eurotechnology in Tokyo. "A massive potential waiting to be harvested."
It's a surprise success but one that if sustained can have a transforming impact on the fortunes of the company.
It's not the first time Nintendo has been here though, and during the height of the Wii craze it was rated as the third most valuable company in the whole of Japan – with a market value of over $85 billion. But Nintendo managed the decline of the Wii, and the launch of the Wii U, poorly, and until the launch of Pokémon GO they'd been at their lowest ebb ever financially.
But the success of Pokémon GO has been such that even companies just associated with it have seen a boost; such as McDonald's, who are current giving away Pokémon toys in Japan and are rumoured to be about to announce a marketing deal for Pokéstops.
McDonald's Japan jumps 23%, the most since listing, because…Pokemon Happy Meals (Pokemon Go not even out in Japan) pic.twitter.com/yu3sHDxGjJ

— Haidi Lun 伦海迪 (@HaidiLun) July 19, 2016