AUCKLAND (New Zealand) — Long-serving New Zealand cricketer Daniel Vettori has called time on his international career, saying the World Cup final against Australia was his last appearance for the Black Caps.
The 36-year-old's announcement was no real surprise after an 18-year international career.
"It was my last game for New Zealand so it was a lovely way to finish," Vettori told reporters at Auckland airport in New Zealand as the team returned from Sunday's final, in which Australia won by seven wickets.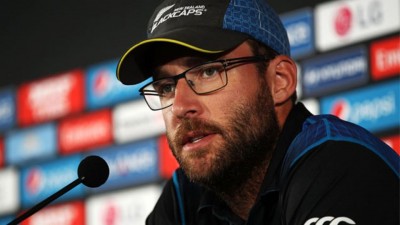 "Obviously it would've been great to win but I'm really proud of everyone and the way we've gone about things the last six weeks."
"To be able to finish in the final albeit without a win, I'm just very grateful for the amount of support I had particularly from Brendon [McCullum] and Mike [Hesson]. To be able to get back from a number of injuries and to be here and to be part of it … is something I'll always treasure."
Vettori played 113 Test matches, 295 one-day internationals and 34 Twenty20 internationals, taking 705 wickets, as well as scoring 6,989 runs.
The left-arm spinner, currently ranked as the 12th best one-day international bowler in the world, took 15 wickets in the World Cup, the eighth best performance, including four for 18 against Afghanistan.
Vettori played his first Test as an 18-year-old against England in February 1997 and went on to feature in 113 internationals, taking 362 wickets at an average 34.36 while scoring 4,531 runs including six centuries.