South Africa marks Mandela's first death anniversary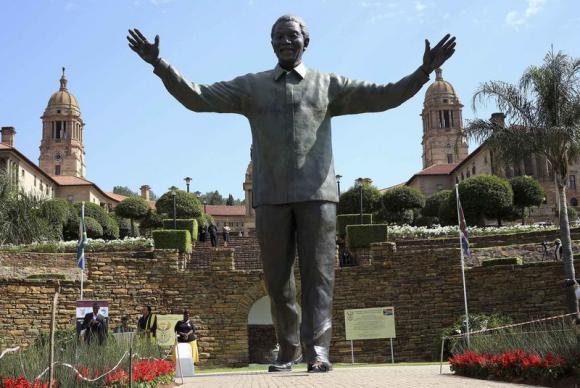 On Nelson Mandela's first anniversary, South Africans erupted in songs, dance and tears in public and emotional celebrations of the life of Nelson Mandela, a leader who bridged this country's black-white divide and helped avert a race war.
It has been one year since the death of South Africa's first black president, Nelson Mandela, widely considered a powerful symbol of the country's break from racial apartheid. Many paid tributes to his life-long struggles by laying wreaths at the foot of a towering statue of Mandela in Pretoria while across the country there were prayers, speeches and a cricket match on Friday to pay tributes to the struggles of their beloved leader who died at the age of 95.
People around the world today remember him as one of the greatest and incredibly selfless man who made immense sacrifices to re-write the history of generations of South Africans. Mandela's struggles for freedom, humanity and justice inspired the whole world and made him an icon world peace.
Across the country, crowds gathered to ring bells, sound sirens and blare vuvuzelas for 3 minutes and 7 seconds, before observing 3 minutes of silence, in a 6 minute and 7 second tribute to reflect Mandela's 67 years in public service.
Veterans of the anti-apartheid struggle lay wreaths at the foot of a towering statue of Mandela in Pretoria, where crowds earlier sang "Nkosi Sikelel' iAfrika" (God Bless Africa), the evocative national anthem adopted after apartheid ended in 1994.
South Africa's first black president, who spent 27 years in apartheid prisons before emerging to preach forgiveness and reconciliation, died last year aged 95 from a lung infection.
Under South Africa's system of racial segregation, Mandela became a leading anti-apartheid activist. He was imprisoned in 1962 and again in 1964 for allegedly planning to orchestrate war against the government, among other charges. In total, Mandela spent 27 years in a South African prison.
Twenty years after he swept the ANC to power, pledging to ensure universal access to quality education, jobs and houses, very little of the optimism that engulfed the country remains.
"This moment should call upon us to pause and to reflect on the life of South Africa's greatest son," said Acting President Cyril Ramaphosa.
Ephraim Mabena, 55, a veteran of the anti-apartheid armed unit Mandela helped found, called him an inspiration and a legend, adding: "The sad part is that he is no longer with us."
Archbishop Desmond Tutu also paid tribute to the Nobel laureate, saying: "We thank God for him, and the example he gave us. He taught us about the worth of a human being, all human beings."
One of Mandela's granddaughters, Ndileka, says South Africans were still upholding Mandela's legacy and honouring his memory by living by his values of peace and reconciliation. "That's just the spirit of who granddad was, that even after a year that he's gone peace still prevails, people still upholding his legacy and what he stood for, because he stood for peace and reconciliation."
"The body gave in but Madiba's spirit never, never changed, it was always the same until the end," his widow, Graca Machel, said before laying a wreath at the base of the 9m (30 ft) tall bronze statue of her husband.
She said it remained the responsibility of every person in the world to ensure his legacy lived on.