Media Release, 2 August 2023: The international partnership brings some of the world's finest Egyptian antiquities to three Australian venues Remarkable objects from a world-inspiring culture form part of a new exhibition, Discovering Ancient Egypt, from the National Museum of Antiquities (RMO), in Leiden, the Netherlands, which is touring Australia as part of a major collaboration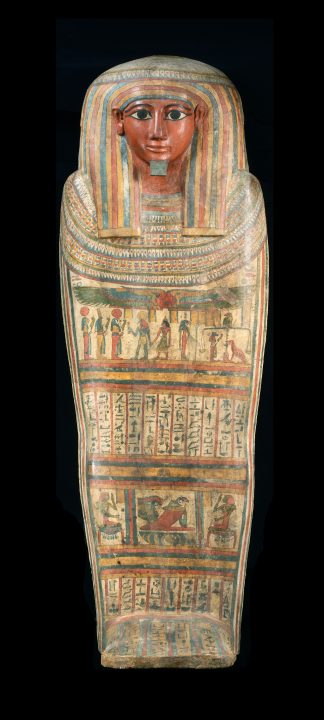 between the National Museum of Australia, the Western Australian Museum and the Queensland Museum Network.
The highly anticipated Discovering Ancient Egypt exhibition features more than 200 objects exploring the ancient culture's vast social and traditional history spanning 3000 years. Through exquisite jewellery, sculpture, pottery and an array of stunning funerary material, this exhibition showcases the ancient Egyptians' unique outlook on life and death, religious practices, daily life and the journey to the afterlife.
A unique aspect of this exhibition is its focus on the history of discovery, inviting visitors to consider the ongoing role of museums in documenting and presenting ancient cultures. Key moments such as the finding of the Rosetta Stone during Napoleon's military campaign to Egypt and the rediscovery of the tomb of the young pharaoh Tutankhamun will be explored alongside the RMO's prolific archaeological discoveries over decades.
The exhibition includes multimedia presentations featuring the faces and voices of local Egyptian archaeologists and cultural custodians at dig sites, ensuring visitors understand discovery as an ongoing practice.
A notable moment for visitors will be the life-sized replica facade of the Temple of Taffeh, which will be illuminated by a striking, large-scale graphic presentation. This ancient Nubian temple was shipped to the RMO from the Nile as a gift from Egypt to the Netherlands.
For this exhibition, recent CT scans have been conducted on mummified human and animal remains, with the results of the analysis being made public in Australia for the first time via a captivating digital interactive. The mummified human remains coming to Australia are preserved within their original linen bandages.
Discovering Ancient Egypt opened at the WA Museum Boola Bardip on 10 June and will travel to the National Museum in Canberra (15 December 2023 – 8 September 2024), before concluding its Australian tour at the Queensland Museum Network (25 October 2024 – 5 May 2025).
National Museum of Australia Director, Dr Mathew Trinca, said the partnership between the four museums was a credit to the arts and culture industry across Australia and further cemented Australia on the global cultural touring exhibition map.
"I particularly want to thank the Dutch National Museum of Antiquities and the Australian partner institutions. Meaningful collaboration like this enables cultural institutions to pool and leverage their resources to bring world-class exhibitions to Australia," Dr Trinca said.
[END]