London Welcomes the 15th World Halal Business Conference Circuit 2023, Spearheading Halal Industry Advancements
for a Borderless World, Officiated by Malaysian Deputy Prime Minister
London, (27th October 2023) – The 15th edition of the World Halal Business Conference Circuit (WHBC) 2023 kicks off in London, United Kingdom today. Hosted by the Ministry of Investment, Trade and Industry, Malaysia (MITI Malaysia), and organised by Halal Development Corporation Berhad (HDC), this esteemed industry event serves as a global platform for Halal thought leadership and knowledge sharing within the Halal economy.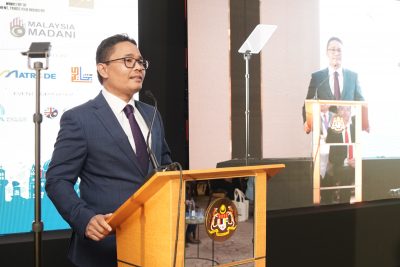 Under the theme "Halal Opportunities in a Borderless World," WHBC Circuit 2023 London takes center stage in the new era of Halal business, exploring industry trends, challenges, and emerging opportunities on a global scale. This event brings together major industry sectors, offering a comprehensive platform for Halal stakeholders to connect, collaborate, and grow.
The highlight of the opening day was an address by The Right Honourable Dato' Seri Dr. Ahmad Zahid Hamidi, the Deputy Prime Minister of Malaysia, shedding light on the future of the Halal industry. His speech emphasised on Malaysia's influential role in steering the growth of the Halal industry, embracing the concept of 'Halal Diplomacy.' This approach underscores the importance of strengthening international relationships, fostering cooperation, and harmonising ecosystem among Halal economies worldwide.
"Through Halal Diplomacy, our primary goal is to strengthen our international relationships, fostering stronger ties between countries. Additionally, we are committed to facilitating our allies' access to the Halal market, ensuring they can participate in the growth of the Halal economy alongside us," said Ahmad Zahid in his Official Address.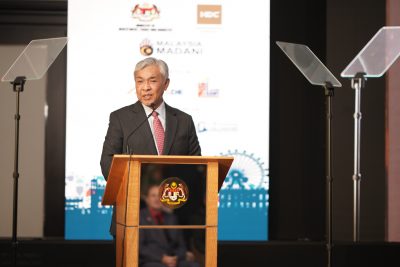 The WHBC Circuit 2023 London marked three significant milestones in its trajectory. Firstly, the collaboration between two major entities, HDC and the Malaysian Palm Oil Certification Council (MPOCC), highlights a shared commitment to sustainability. This collaboration is a crucial step forward, enhancing the ethical credentials, transparency, and sustainability of the Halal industry.
Secondly, the Deputy Prime Minister announced RM2.67 billion (£459 million) in secured financing facilities, empowering the Halal economy with the support of international and Malaysian banks, alongside financial institutions. This financial boost has the potential to accelerate innovation and expansion, increasing competitiveness on the global stage while facilitating capacity building, technology adoption, and access to new markets for Halal businesses.
Lastly, the conference highlighted Malaysia's commitment to reinforce Technical and Vocational Education and Training (TVET) and high skilled job creation, supporting a capable and resourceful workforce to meet the growing demands of the Halal industry. This commitment not only serves immediate job creation needs but also promises long-term benefits for the nation's economy.
The overarching strategy was further elaborated in the speech by Mr. Khairul Azwan Harun, the Chairman of Halal Development Corporation (HDC). His address emphasised the role of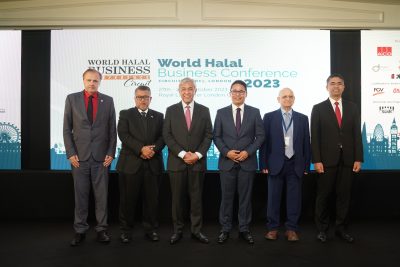 innovation, trade, and investment in fostering a robust, sustainable Halal industry.
The WHBC Circuit 2023 program offers a diverse range of events and engaging sessions covering vital topics through thought-provoking panel discussions, interactive sessions, and networking opportunities throughout the two-day conference.
Before the conference, HDC conducted multiple training sessions to raise awareness of Halal practices, provide updates on the certification process, and encourage engaging discussions. Additionally, the Halal Industry Field Trip Programs facilitated knowledge exchange between Malaysian entrepreneurs and UK businesses, promoting cross-cultural collaboration and exploration of new possibilities.
At the forefront of the Halal market, WHBC Circuit 2023 is dedicated to sustainable and inclusive growth, fostering innovative solutions and building a global community committed to a prosperous and inclusive future within the Halal industry.
World Halal Business Conference Circuit 2023, was inaugurated by the Rt. Hon. Deputy Prime Minister of Malaysia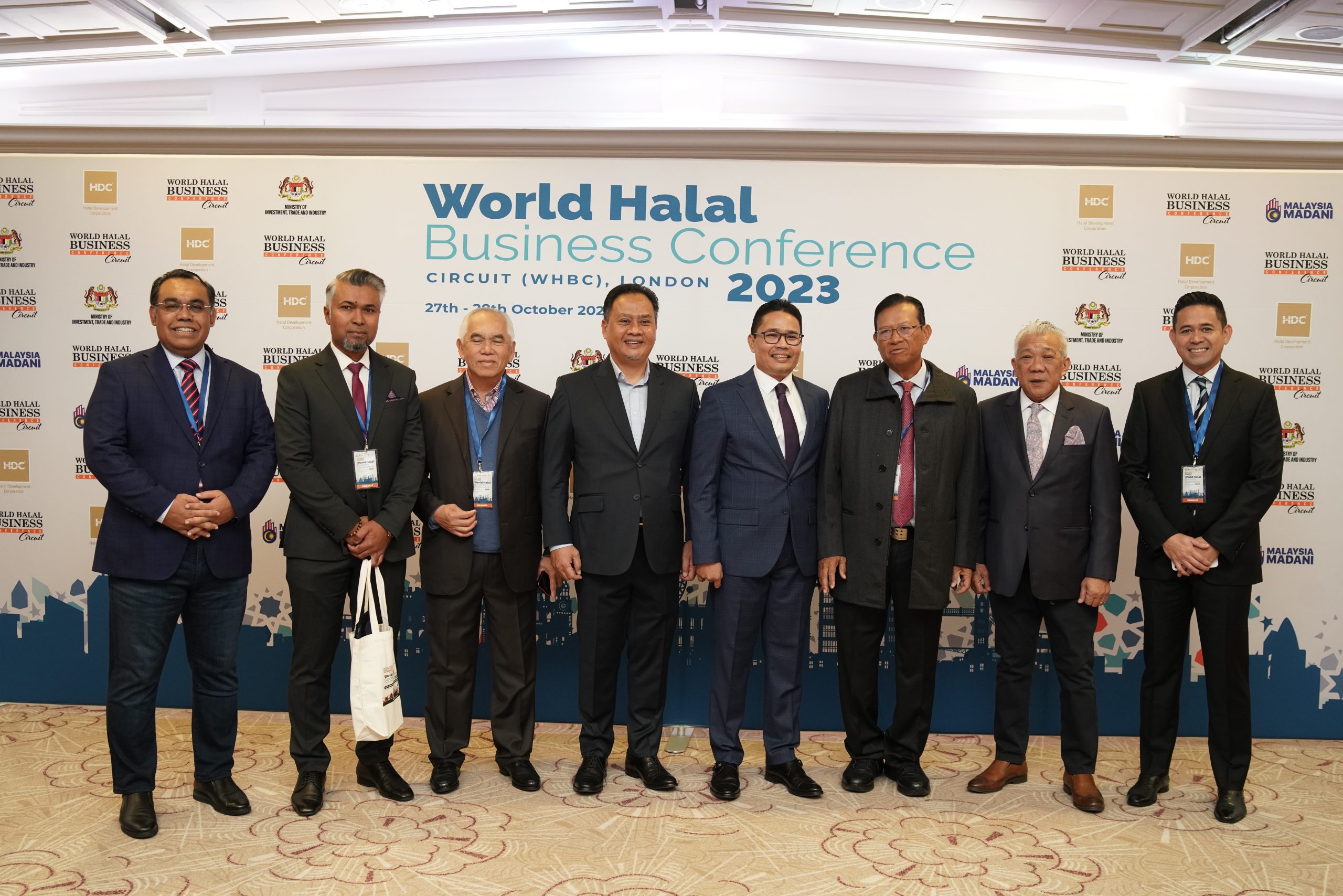 Following is the Chariman Welcoming Remark for WHBC 2023 in the opening ceremony:
Rt Hon Dato' Seri Dr Ahmad Zahid Hamidi
Deputy Prime Minister of Malaysia
HE Datuk Zakri Jaafar
High Commissioner of Malaysia
Distinguished speakers, honoured guests, members of the media, ladies and gentlemen.
Alhamdulillah, all praises to the Almighty, we are gathered here today for the World Halal Business Conference 2023 in London. On behalf of Halal Development Corporation or HDC, I would like to warmly welcome all guests and participants to this momentous event.
We gather here with the intention to listen to and exchange views and perspectives on Halal trade, and industry development as well as Halal talent.
This year's conference underscores the significance of our continued discussion on ways to maximise global collaboration in the Halal economy with the theme 'Halal Opportunities in a Borderless World'.
Dato' Seri Sir, Ladies and Gentlemen,
World Halal Business Conference or WHBC serves as the global convergence point for visionary thought leaders from government bodies and private sectors, influential industry captains, distinguished scholars, and civil society representatives.
They unite from across the globe to spark inspiration, facilitate profound knowledge exchange, and unveil groundbreaking innovations, all driven by a shared commitment to champion the thriving global Halal economy.
I would like to take this opportunity to express our heartfelt appreciation to the Deputy Prime Minister, Dato' Seri Dr Ahmad Zahid Hamidi for being present to launch this conference.
Dato' Seri Dr Ahmad Zahid is the Chairman of Majlis Pembangunan Industri Halal or Halal Industry Development Council, the custodian and governing council of Malaysia's Halal economy and its ecosystem including industrial and talent development, as well as Halal certification.
WHBC is a strategic networking platform for Halal industry players to foster and unlock business potentials and information exchange in order to create common values, in this fastest growing segment of the global economy. I hope that this platform becomes the catalyst for us to forge more cooperation and collaboration between Malaysia, and the entire world.
Dato' Seri Sir, Ladies and Gentlemen,
HDC has been tasked to spearhead Malaysia's Halal initiatives. We are leading the synergy at home involving relevant stakeholders including government agencies as well as businesses. The synergy entails technology enhancement and adoption in the certification process as well as in developing more export ready businesses.
Through the synergy, HDC also seeks to embark on the digitalization of the certification process from Pre-Approval, Approval to Post-Approval stages, all orchestrated through our cutting-edge National Halal Digital Platform or NHDP. This digital revolution empowers HDC and other stakeholders to expedite a speedy and efficient issuance of Halal certificate, ushering in a new era of Halal excellence.
With this synergy, it has attracted interest from multinational companies to make Malaysia as their Halal hub and centre of excellence. It has also enticed financial institutions to extend support and pledge by allocating sizable amount of funding facilities to the Halal businesses. 
Dato' Seri Sir, Ladies and Gentlemen,
In this interconnected world, HDC is committed to sustaining the momentum through connecting Malaysia's Halal excellence with the global industry players and consumers. It is estimated as we speak today, the demand for Halal goods and services stands at USD 3 trillion.
Through diplomatic engagement and cooperation, we are proud to contribute to the dissemination of Malaysia's Halal ecosystem and standards worldwide, further solidifying our role as the global leader of the Halal economy.
As we embark on these deliberations, let us remember that diplomacy is about building bridges, fostering understanding, and creating opportunities. Together, we aim to make strides not only in our bilateral relations but also in contributing to a more interconnected and mutually benefiting world.
Hence, HDC is in collaboration with the Ministry of Investment, Trade and Industry, the Ministry of Foreign Affairs and the Department of Islamic Development of Malaysia or Jakim to establish a pioneering Halal Diplomacy framework. The primary objective of this framework is to foster effective cooperation and extend assistance to other nations, thereby creating a strong Halal alliance that promotes shared prosperity and well-being.
Under the leadership of our Deputy Prime Minister Dato' Seri Dr Ahmad Zahid, we envision a world where Malaysia plays a leading role in sharing its expertise and knowledge in the Halal economy with our gold Halal standards. Where the world requires a leader to nurture Halal adoption, Dato' Seri Dr Ahmad Zahid appears to drive the formidable movement and force beginning at home and towards the accomplishment of the global Halal ecosystem. 
Dato' Seri Sir, Ladies and Gentlemen,
Once again, I would like to take this opportunity to express my heartfelt gratitude to all that have been instrumental in organising this WHBC, including our renowned corporate sponsors for the unwavering support. This event will not happen without you.
WHBC presents various opportunities for the participants to benefit from. I do hope that you will find the experience throughout this 2-day conference, enriching as well as insightful.
Thank you.
For detailed information on the complete WHBC Circuit 2023 program in London, please visit the official website at https://whbc.hdcglobal.com/programme/.
ABOUT HALAL DEVELOPMENT CORPORATION BERHAD (HDC)
[Halal Development Corporation (HDC) spearheads the development of Malaysia's integrated and comprehensive halal ecosystem and infrastructure to position Malaysia as the most competitive country leading the global halal industry. Established on 18 September 2006, HDC as it is also known, is the central coordinator that promotes participation and facilitates growth of industry players in the development of Malaysia's Halal ecosystem.  An agency under the Ministry of Investment, Trade and Industry; it is the world's first Government-backed halal industry development corporation. For more information, please visit HDC at – www.hdcglobal.com.]
-end-