From porters to room cleaners to front desk officers, all the staff members at the new Japanese hotel will be Robots
A new hotel opening this summer in Japan's Huis Ten Bosch theme park will be entirely staffed by robots.
The futuristic hotel is named Henn-na, or "strange hotel" in Japanese. The name reflects how the hotel will "change with cutting-edge technology," said a company official. This is a play on words: "Henn" is also part of the Japanese word for change.
"A Commitment for Evolution," will be the motto of the two-story Hotel which is scheduled to open on July 17 at the Huis Ten Bosch theme park, which used life-sized replicas of old Dutch buildings to re-create The Netherlands in Japan.
The robotic experience will begin soon after you step into the hotel. Robots will help you with your bags, as well as manage the front desk and other hotel services – even clean your room for you – all free of tips.
Besides being entirely robotic staff, the hotel has some other high-tech touches. For instance, facial-recognition technology will replace room keys, so you'll be able to unlock your door with your face.
The working robots will provide porter service, room cleaning, front desk and other services to reduce costs and to ensure comfort. The robots will reduce costs associated with running the hotel, and ensure comfort for guests. They should also help you save some money on tips.
"We'll make the most efficient hotel in the world," boasts Huis Ten Bosch president Hideo Sawada according to Japan Times. Sawada says he hopes robots will eventually operate 90 percent of hotel services and management.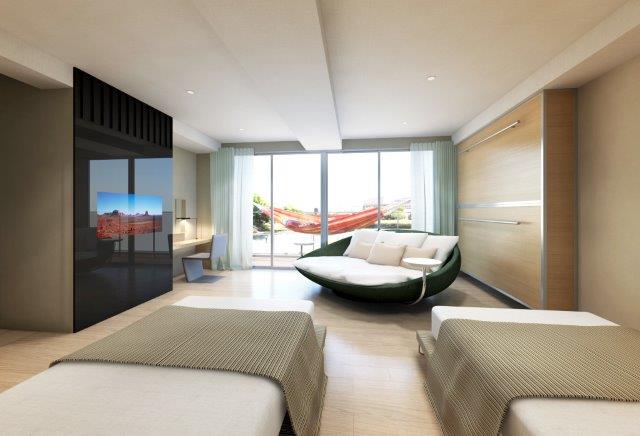 High-tech features keep prices low
A single room at the Hotel will be priced at 7,000 yen a night, or around US $60. A twin room will cost around US $75 (¥9,000).
"In the future, we're hoping to build 1,000 similar hotels around the world," says Sawada, according to Japan's Nikkei News.
The first building in the complex will open in July with 72 rooms, followed by another 72-room building next year, the company said.
The theme park in Sasebo uses actual-sized copies of old Dutch buildings to bring the experience of the Netherlands to Japan.
Guests can already reserve rooms online through the hotel's website.