Google and Uber are going to war over self-driving taxis
Google is on the verge of getting into the ride-sharing business, creating a rift with the market leader Uber, Bloomberg reports. Uber and Google have been allies since Google invested $258 million in Uber in 2013 and got a seat on its board of directors. But Bloomberg says David Drummond, the Google executive who holds that Uber board seat, has recently informed Uber of its plans to get into the market itself.
Bloomberg suggests the move is part of Google's larger plan to build a business around self-driving car technology. That would make a lot of sense.
Uber is not only far larger than its challengers in the suddenly booming car-hailing business. Uber is also teaming up with Carnegie Mellon University for a research facility in Pittsburgh, Pa., to develop its own autonomous vehicle technology, the company has announced.
Google is preparing to offer its own ride-hailing service, most likely in conjunction with its long-in-development driverless car project.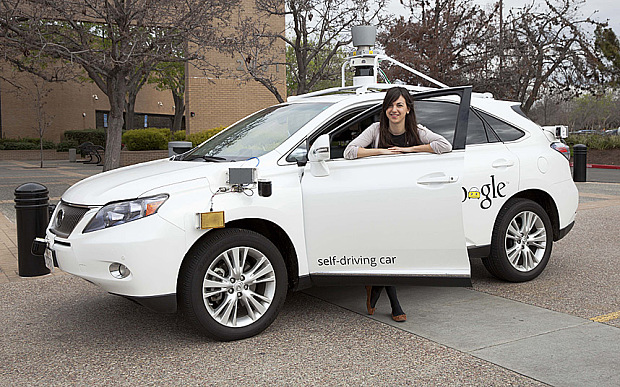 Google has made no secret of its ambitions to revolutionize transportation with autonomous vehicles. Chief Executive Officer Larry Page is said to be personally fascinated by the challenge of making cities operate more efficiently. The company recently said the driverless car technology in development within its Google X research lab is from two to five years from being ready for widespread use. At the Detroit auto show last month, Chris Urmson, the Google executive in charge of the project, articulated one possible scenario in which autonomous vehicles are patrolling neighborhoods to pick up and drop off passengers. "We're thinking a lot about how in the long-term, this might become useful in people's lives, and there are a lot of ways we can imagine this going," Urmson said in a conference call with reporters on Jan. 14.
"One is in the direction of the shared vehicle. The technology would be such that you can call up the vehicle and tell it where to go and then have it take you there."
A lot of people assume that a self-driving car is a product that customers will buy the way people buy conventional cars today. But Google has never been very good at selling physical products; its strength has always been in the provision of services. And that makes the taxi business the perfect place for Google to introduce its self-driving car technology.
Google's entrance into the ride-sharing market would also leave Uber without a partner in the suddenly plausible future in which cars without steering wheels roam the streets. Uber will either have to develop the technology itself or form an alliance with a company that can if it wants to offer autonomous vehicles within its fleet. Mercedes, Audi, Tesla, and other carmakers have said they are developing driverless cars, though it's not clear that any is as advanced as Google's.