(News Report, High Commission of Sri Lanka, New Delhi, 19 September 2023): Sri Lanka's High Commissioner to India Milinda Moragoda said that the Satara Sampada or the four accomplishments preached by the Buddha could form a firm basis for a culture of democracy. He made these remarks while speaking at a panel discussion titled 'Culture of Democracy' at the first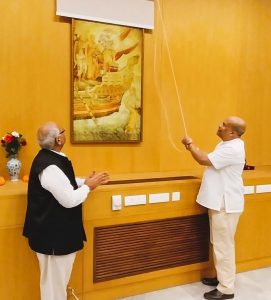 edition of the "Vaishali Festival of Democracy" which was held at the Nalanda University in Rajgir, Bihar last week.
Named after Vaishali, the city that had the first known democratic republic in ancient India, the Festival of Democracy was jointly organized by the Indian Council for Cultural Relations (ICCR) and the Nalanda University in Rajgir. India's former President Ram Nath Kovind, Bihar Governor Rajendra Arlekar, Minister of State of External Affairs of India Meenakshi Lekhi and the Chief Minister of Assam Himanta Biswa Sarma were among the dignitaries who attended the inaugural session of the Festival. In addition to Sri Lanka, Heads of Mission of Argentina, Chile, Egypt and Nepal also attended this first edition of the Vaishali Festival of Democracy.
High Commissioner Moragoda spoke at one of the two panel discussions of the Festival, which was moderated by Prof. Shantishree Pandit, Vice Chancellor of the Jawaharlal Nehru University in New Delhi. Speaking on the culture of democracy, High Commissioner Moragoda observed that the Festival is aptly named, reviving India's democratic heritage, and stated that both Buddhism and Hinduism, which were originated in India provide a sound basis for a culture of democracy. In particular, he referred to the Satara Sampada or four accomplishments preached by the Buddha; Saddha (faith or trust), Sila (virtuous behaviour), Tyaga (sacrifice) and Panna (full realization and thorough understanding) as key pillars of a democratic society.
During his visit to the Nalanda University, High Commissioner Moragoda also met with its Vice Chancellor Prof. Abhay Kumar Singh and discussed on the opportunities available for Sri Lankan students at the Nalanda University and the ways and means to cooperate in the higher education sector. Marking the visit, High Commissioner Moragoda presented to the University, reproductions of two murals painted by the eminent Sri Lankan painter Solias Mendis in the Kelaniya Rajamaha Vihara depicting the gift of Buddhism to Sri Lanka from India, which were unveiled at the office of the Vice Chancellor.
[END]