Persistent heavy rain on Wednesday caused widespread disruption in the Chinese capital, Beijing, forcing the delay and cancellation of hundreds of flights and the closure trains and subway stations.
At least one person was killed and 34 missing as torrential rain pounded northern China, state media reported Wednesday (Jul 20).
Thunderstorms and heavy rain have led to hundreds of flight cancellations and delays at airports in Beijing and neighbouring Tianjin.
Some 195 flights scheduled to leave Beijing Capital International Airport had been cancelled by 1pm on Wednesday, while no flights have landed or taken off at Tianjin Binhai International Airport since about 3am today.
Weather authorities in the province have issued their highest, or red, alert for rainstorms, the agency added.
Heavy downpours struck Hebei province which surrounds Beijing, causing all major rivers to breach their banks and damaging 11 dams and two hydropower stations, the official Xinhua news agency reported.
Beijing's weather bureau said the rain could cause the most serious flooding in the capital since 79 people died in storms in 2012.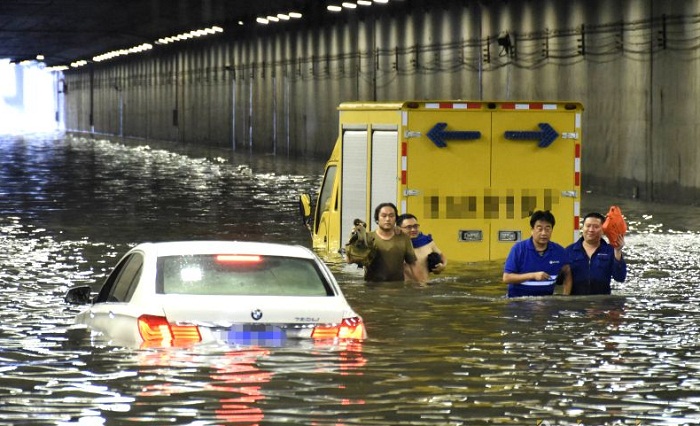 Beijing updated its alert for torrential rain from yellow to orange at 11.30 am on Wednesday, the second highest on a four-tier alert system. China has a four-tier color-coded system for severe weather, with red being the most serious, followed by orange, yellow and blue.
Besides Beijing, torrential rain will hit parts of Tianjin, Hebei, Liaoning, Jilin, Inner Mongolia, Shandong, Henan, Jiangsu, Anhui, Hubei, Hunan and Yunnan from Wednesday afternoon to Thursday afternoon, with rainfall of up to 240 millimeters in some places.
Hebei, a province around Beijing, issued a red alert for heavy rain on Wednesday, and Tianjin also issued an orange alert.
The National Meteorological Center advised people living in the affected areas to prepare for possible floods, landslides and mud and rock flows, and those that live in mountainous areas should move to safe places.
Heavy rains hit large part of China on Tuesday, and an area of around 635,000 square kilometers covering North China, Central China and East China have seen daily precipitation of more than 50 millimeters.
Torrential rain has already wreaked havoc in southern China this year, causing floods in several major cities including Wuhan in the central province of Hubei.