Harry Potter magic is back! Fans celebrate release of long-awaited book 'Harry Potter and the Cursed Child' across Australia
Harry Potter enthusiasts, dressed up as wizards, flocked to bookshops in Sydney, Melbourne, Adelaide and other cities and towns to secure a copy of the final installment in the much-adored series.
J.K. Rowling's eighth Harry Potter story has been released in bookstores across the globe. The Aussie release is part of a simultaneous worldwide launch.
Annabelle Spence and Theo Bird were two of the first people to buy the new Harry Potter book in Sydney.
"My name is Theo Bird, I'm age nine and I think the new book is amazing" said Theo, one ardent Harry Potter fan sporting Hogwarts-themed apparel. He had finally been able to buy the long-awaited Harry Potter stage play written by Jack Thorne with a story from J.K Rowling and John Tiffany.
"People were running up to the stage to get the book and pretty much I got the book third and the two people in front of me were very excited," Theo said.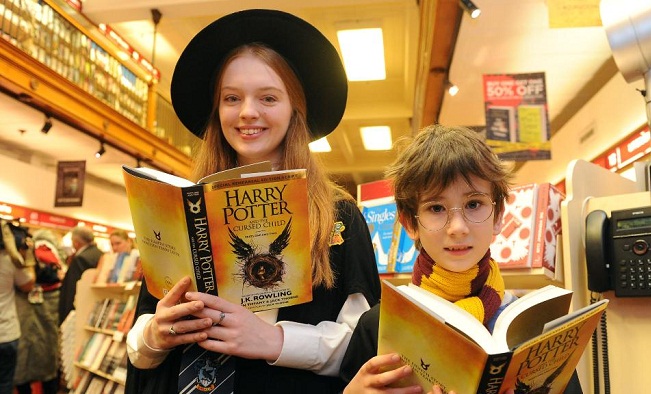 Harry Potter enthusiast Mariette Lewis and her mum Lisa were among the first muggles to converge on Dymocks Books – the biggest book chain in the country.
The Bowral teenager, in Sydney to celebrate her 18th birthday, had the highly anticipated release date blocked out in her calendar for weeks.
"I probably started reading them (the books) when I was seven or eight and I've read them twice or three times now," Ms Lewis told AAP.
"I guess no one really knows what happens 19 years on and I've always wanted to know what happens to (Harry Potter's) kids and his family."
Dymocks had already sold more than 15,000 pre-sale copies of the script before opening its doors on Sunday.
Just a few our amazing customers! #HarryPotterandtheCursedChild @HachetteAus @Dymocksbooks pic.twitter.com/sg5skXNckk

— Dymocks Burwood (@DymocksBurwood) July 31, 2016
"Tens and tens of thousands will be sold right across Australia over the next couple of weeks," Dymocks managing director Steve Cox told AAP.
The books had been under the strictest of global embargoes.
"We couldn't open the boxes, we couldn't even take photos of the boxes for social media, so right across the world nobody was able to access the books," Mr Cox said.
He said there was nothing quite like the Harry Potter series.
"We've got other best-selling series but Harry Potter is head and shoulders above the rest," he said.
"People have grown up with Harry Potter – this is the eighth story – people out there have just loved the earlier books and want to see what Harry Potter is doing.
"He's got his own children now, and they're desperate to see what happens next."
Widely seen as the eighth Harry Potter instalment, the play is set 19 years after the end of the last book and features a grown-up Potter working at the Ministry of Magic.
Like many of his fans, Potter has now become an adult and has three children with his wife Ginny Weasley.
He still has his trademark round-rimmed glasses and the scar on his head, a permanent reminder of his nemesis Lord Voldemort, but must now help his youngest son Albus confront the family's dark past.
The script's global kickoff was timed to coincide with its launch at midnight in London, after the play's world premiere at the Palace Theatre earlier in the evening. July 31 is also author J. K. Rowling's birthday.
Pre-orders for the script book reportedly already exceeded 11,000 in Australian Dymocks stores this week, suggesting it will be another big hit.
Australian Potterheads shared their excitement on social media after securing their copyof much-adored series:
My fangirl heart is so happy right now! I just can't believe that I have it! 😍😍😍😝😝😝🎉🎉🎉 #HarryPotterAndTheCursedChild pic.twitter.com/ckDMwkwTZ5

— BLOND KATNISS (@PianoFreak9) July 31, 2016
This is what pure & utter happiness looks like ♥ ♥ ♥ Thank you @Dymocksbooks! #HarryPotterAndTheCursedChild pic.twitter.com/NCINruDIVL

— Booknut101 (@Booknut101) July 31, 2016
@ShooterWol captures the frenzy as #HarryPotterAndTheCursedChild books hit the shelves at @Dymocksbooks this morning pic.twitter.com/FAvRhPCwI2

— SMH Photography (@photosSMH) July 31, 2016
Everyone at @DymocksHaySt is as dressed up as I am! Their line up started at a cold, dark & stormy 6am #CursedChild pic.twitter.com/c7ShLVUeC9

— Todd Griffiths (@Todd_Griff) July 31, 2016