Sydney (Tribune International Report, Nov 12, 2017): A team of Halal Expo Australia, and Suprovat Sydney (leading Bangladeshi Newspaper) held a forum on Halal Expo Australia (HEA) 2018. Prominent business leaders from the Bangladeshi Community in Sydney participated in this event.
Mr. Abdullah Yousuf Editor-in-Chief Suprovat Sydney; Mr. Zaman Mullah Councilor for Roseland Ward; Mr. Jahangir Alam Executive Director Fletcher International Export; Mr. Zillur Rashid; Mr. Moinul Islam Managing Director Ozepac Solutions Group; Abdul Hoque Director BurgerCrave; Mr. Sazzad Hoossain Director Pran Australia; Mr. Abdur Rahim Sumon owner Banaful Restaurant; Mr. MD Iqbal Chowdhury Director Mates Global; Mr. Mahboob Hasan Manager Mates Global; attended this very informative forum on HEA 2018 hosted by Mr. Sabeh ul Hassan Head of Marketing HEA 2018 and Syed Atiq ul Hassan Director HEA 2018.
'Halal Expo Australia, started in 2015, is now an established international Australian Islamic event that is recognized internationally, says Syed Atiq ul Hassan.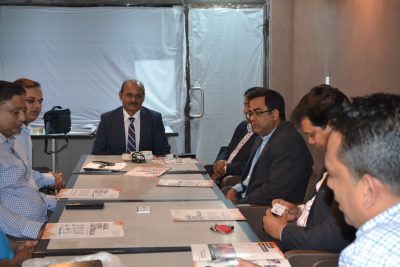 'With the remarkable support of the all facets of the Australian Islamic Community, the event is expanding significantly and benefiting the halal industry players'
'The event is focusing to bring existing and new halal products & services introducing by our business community'.
He said that the International Halal Conference (IHC), side-by-side with the Exhibition, creates awareness and deliver knowledge & information through international experts on different areas of the halal industry.
All the participants, especially the Councilor Mohammad Zaman demonstrated his keen interest in the success story of the Halal Expo Australia in the last 3 years and to work closely with the Organising team of HEA 2018.
Mr. Hassan thanked all the attendees especially Mr. Abdullah Yousuf on organizing such an enjoyable event.
HALAL EXPO AUSTRALIA (HEA) is an exciting and exclusive event that showcases and creates awareness Halal food, products, and services in Australia. As the one and only International Halal event in Australia; It is a largest Halal trade show that delivers a fantastic opportunity for international and national Halal industry players to promote their products and services in the Australian and International Markets. Halal Expo Australia is a one-stop event that reaches over thousands of people who are interested in Halal products and services. Halal Trade Show covers variety of Halal Products & Services from Food & Beverage; Finance, Investment & Banking; Arts & Culture; Fashion, Cosmetics & Accessories; Beauty & Health Products; Lifestyle & Wellness; Pharmaceutical & Herbal Products to Building Private & Commercial Projects; Travel, Tourism & Hospitality; Innovation & Technology; Education, Research & Development.
The events contain Halal Industry-focused activities including high-level B2B networking, sideline meetings, signing MoUs, special break-out sessions, meeting with top Australian officials, entrepreneurs and B2C promotion and sell of the halal products and services.
Similarly, the 2-Day International Halal Conference (IHC), side-by-side provides unique opportunity to the local and overseas Halal industry players, Halal certification bodies, Islamic leaders, interfaith dialogue pleaders, and the representatives of the Government departments to meet, speak and seek consensual resolutions on critical issues related to Halal industry in ethical, professional and harmonious relations. The theme of IHC 2018 is 'Halal Industry: Growth, Issues and Solution'.