By Puja Tiwari, Economic Research Analyst at GlobalData, a leading data and analytics company
"The Union Budget FY2023-24 prioritizes seven focus areas to increase investments in infrastructure, create jobs through harnessing digital push in all sectors and by encouraging entrepreneurship. The budget lays the road for the sustainable growth of the economy with a significant push towards green energy initiatives. Against this backdrop, GlobalData forecasts the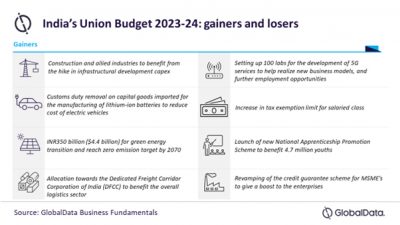 India economy to grow by 5.7% in 2023, driven by 33% rise in capex and domestic demand.
"The budget offered tax reliefs as expected in GlobalData's analysis on pre-budget expectations. Raising the income tax slab is anticipated to boost domestic demand through higher disposable income in the hands of the middle class. GlobalData forecasts the real household consumption expenditure to rise by above 5% in 2023.
"The budget seeks to introduce the active partnership between private and public organisations for sustainable tourism development. The government plans to enhance 50 tourist destinations across the country for domestic and international tourism through schemes namely Swadesh Darshan and Dekho Apna Desh. GlobalData forecasts the domestic and international tourist arrivals in India to increase from an estimated 2.3 billion and 6.6 million in 2022 to 2.8 billion and 11.8 million, respectively, in 2025.
"Green growth remains as one of the top priorities of the government as the budget proposes an outlay of INR350 billion ($4.4 billion) towards energy transition and reduce the imports of fossil
fuels with a target to increase the annual production capacity of green hydrogen to 5 million metric tons, bring investments of INR8 trillion ($99.8 billion) and create over 600,000 jobs by 2030.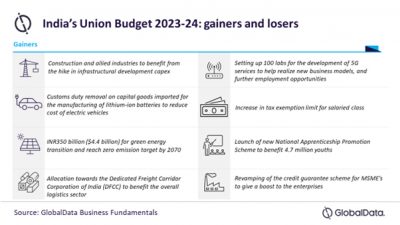 "According to GlobalData estimates, the agriculture and allied sector contributed 18.4% to the gross value added (GVA) and employed 44.8% of the total labor force in 2022. With agricultural sector being a key contributor and employer, it received the much-needed push in the Union Budget. Initiatives to support agro starups through the creation of Agricultural Accelerator Fund, increasing the agri credit target to INR2 trillion ($24.9 billion) and promoting agri-tech will help increase the productivity and create more jobs in the sector. GlobalData forecasts the agricultural and allied sector gross value added to rise by 10.2% during 2023-25.
"Increase in capex is expected to positively benefit the construction and allied industry for road, water, and urban development. GlobalData projects the construction GVA to expand by an average of 10% during 2023-25. On the other hand, the initiatives to ease doing business in India are expected to create a benign environment for the investments and encourage both foreign and domestic investments.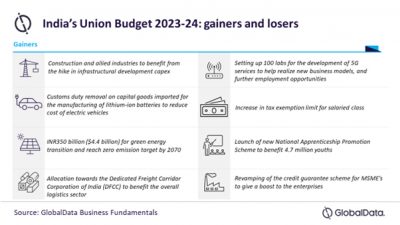 "The Union Budget also emphasized on the development of 5G, AI, and robotics along with providing a big boost to the digital payments through enabling PAN as the common identifier. GlobalData's Payment Card Analytics forecasts India's card payments market to grow at a compound annual growth rate of 18.7% between 2022 and 2026 and reach INR43.3 trillion ($581.2 billion) in 2026.
"Overall, the Union Budget focuses on strengthening macroeconomic stability, create ample job opportunities, develop tourism along with emphasizing on agri-tech industry and startups. Meanwhile, the revised budget shows a 3% cut to targeted FY2022-23 capex. Therefore, although policy direction in the FY2023-24 budget remains favorable, execution needs monitoring."
ENDS