Parramatta (Media Release Parramatta Council, 25 September 2023): City of Parramatta Council tonight elected Councillor Pierre Esber as its new Lord Mayor.
Councillor Esber, who represents the Dundas Ward and has been helping shape Parramatta as a councillor for more than 20 years, said he is looking forward to leading the City as it embarked on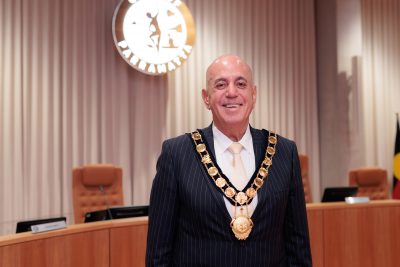 the next chapter of its transformation.
"Parramatta has cemented its position as the true heart of Greater Sydney and is attracting global attention for its diversity, vibrant nightlife and commitment to our community," Cr Esber said.
"Council is committed to making it the best place to live and raise a family, to work and build a business and a magnet for our smartest minds, most brilliant creatives and promising sporting talent.
"The next 10 years will shape the future of this great City and we want to make every day count. I am proud to lead Council into this next formative period."
Council also elected Councillor Dr Patricia Prociv as its Deputy Lord Mayor at the meeting.
Councillor Prociv, who represents Rosehill Ward, said it was an honour to be elected as Deputy Lord Mayor at Council.
"It is a privilege to work alongside Lord Mayor Cr Esber and my fellow councillors to keep progressing our great City and driving cultural investment," Cr Prociv said.
"Parramatta really is where it's at."
Lord Mayor Esber and Deputy Lord Mayor Prociv will hold the positions until the next local government elections to be held in September 2024.