Pakistan's top leadership welcomed Chinese President Xi on his arrival on a two-day state visit on Monday (20 April 2015) on a much-awaited trip that seeks to bolster strategic and economic cooperation between Pakistan and China. The visit is the first by a Chinese president to Pakistan after nine years.
A fleet of eight JF-17 Thunder jets escorted the special plane of the Chinese leader when it entered Pakistan's airspace. A red carpet and a 21-gun salute welcomed the Chinese president as he landed at the Nur Khan airbase in Rawalpindi.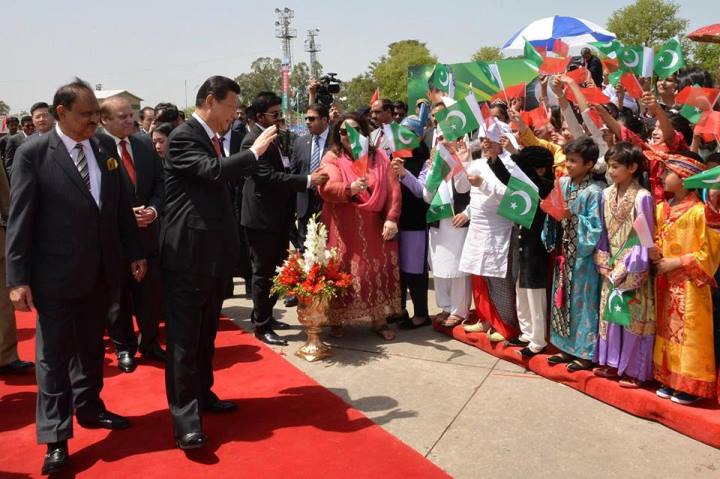 Schoolchildren holding Chinese and Pakistani flags greeted President Xi in Chinese language and young girls showered flower petals on the visiting dignitary.
President Mamnoon Hussain, Prime Minister Nawaz Sharif, his cabinet members and top Pakistani officials received the Chinese president, who was accompanied by China's First Lady, his cabinet members, senior leaders of the Communist Party and leading businessmen. The chairman Joint Chiefs of Staff Committee and three services' chiefs were also among those present at the reception.
The historic ceremony was attended by Prime Minister Nawaz Sharif, Chinese President Xi Jinping and high-level officials from both sides in which few agreements were signed by dignitaries, after which Nawaz Sharif and Xi Jinping shared their views on the bilateral relations.
Islamabad city is brimming with festive atmosphere. The main roads and boulevards of the city have been beautified with flags, flowers, banners and posters before the arrival of Chinese President. Portraits of the honorable guest and the Pakistani president and the prime minister have been placed on the roads in Islamabad to depict the all-weather Pakistan-China friendship. Huge signboards printed with portraits of Chinese President and Pakistani leaders, as well as national flags of China and Pakistan, stood along the main roads of the city, catching the eyes of local residents.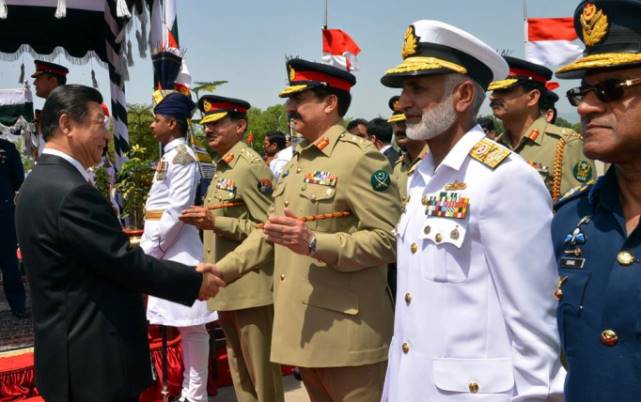 During his visit, Chinese President Xi Jinping held meetings with Pakistan's President Mamnoon Hussain and Prime Minister Nawaz Sharif. The two countries also signed a number of important agreements and MoUs relating to key development projects in the infrastructure, energy, and communication sectors.
Leading a 100-strong delegation, the Chinese leader will be given an unprecedented welcome on his arrival at Chaklala airbase, when Pakistan's top civil and military leadership, including the president, prime minister, services chiefs and other officials will receive him.
Xi is the first Chinese head of state to visit Islamabad since 2006. He was originally scheduled to travel to Pakistan in September last year but cancelled his trip due to political unrest in the country.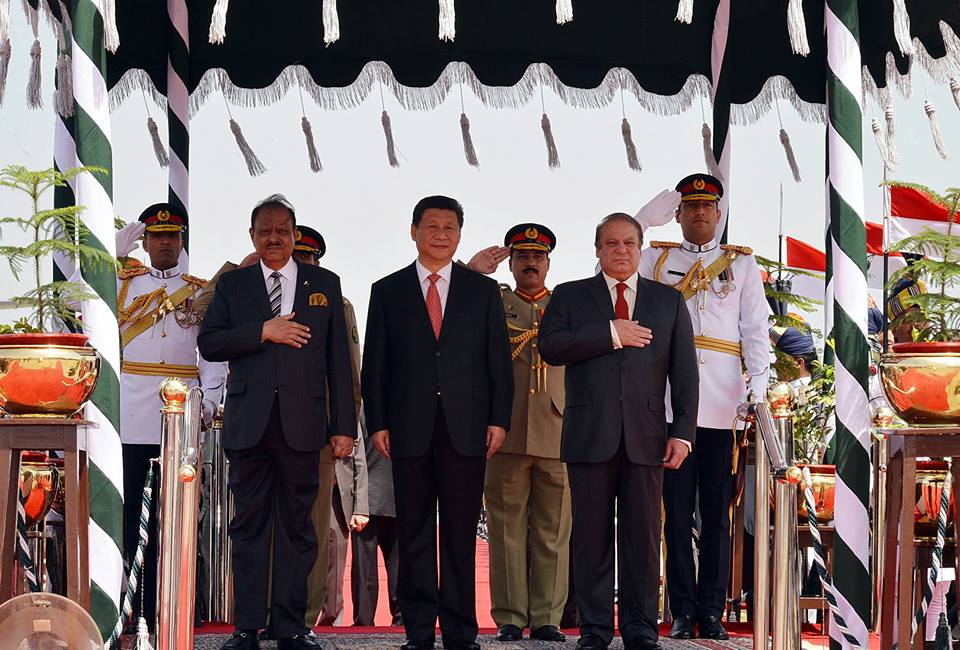 Chinese president Xi Jinping while addressing the joint session of Parliament on Tuesday termed Pakistan-China relations a true story of long lasting friendship. The Chinese president vowed to lead this friendship till the end. He said that Pakistan and China share common civilization, traditions and values.
In his speech, Nawaz Sharif welcomed the Chinese leader and referred to China as an all-weather friend. "There have been critical changes in China and Pakistan, and major regional and international development, but our ties have remained robust. Four generations of our leaders and people have sustained them with passion and wisdom."
Courtesy: Islamabad Scene