At least 200 people have been killed and over 200 injured in bombings that hit crowded market areas in Baghdad on Saturday night, in the deadliest single attack in the Iraqi capital this year.
At least 213 people were killed in deadliest bombings in the Iraqi capital, claimed by the Islamic State group.
The deadliest attack took place in the central Karada district of Baghdad, where a suicide bomber blew up his explosives-laded pickup truck outside a crowded shopping center, killing at least 213 people and wounding up to 200 others, according to a police officer.
The deadliest blast took place on Saturday night in Baghdad's Karrada district when families and young people were out on the streets in central Baghdad to eat, shop and celebrate one of the last evenings of the Muslim holy month of Ramadan.
Most of the victims were inside a multi-story shopping and amusement mall, where dozens burned to death or suffocated, officials said.
In a separate explosion on the same day, at least five people were killed when an improvised explosive also went off in the Shaab neighborhood of southeastern Baghdad.
"It was like an earthquake," said Karim Sami, a 35-year-old street vendor. "I wrapped up my goods and was heading home when I saw a fire ball with a thunderous bombing. I was so scared to go back and started to make phone calls to my friends, but none answered," the father of three added. He said that one of his friends had been killed, another was wounded and one was still missing.
The Islamic State of Iraq and the Levant (ISIL, also known as ISIS) group claimed responsibility for the attack in an online statement, according to the SITE Intelligence Group, a US-based monitoring service.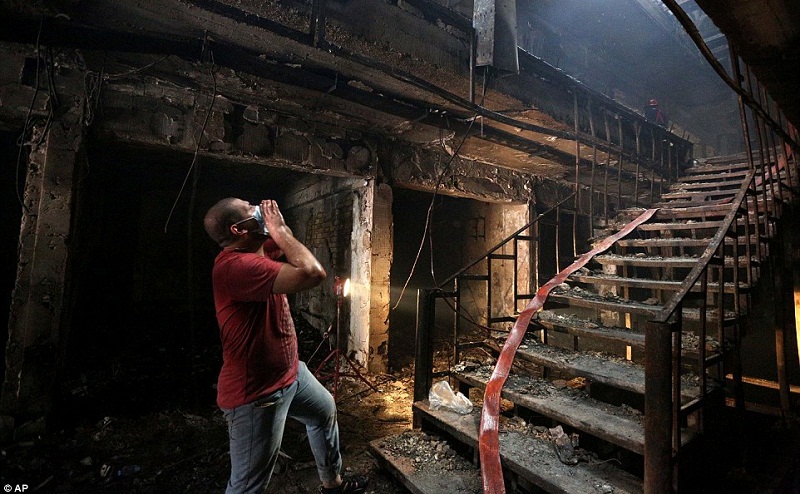 Prime Minister Haider al-Abadi, visiting the site of the bombing, was met by an angry mob throwing stones at his vehicle convoy, calling him a thief. Though he vowed "punishment" for the perpetrators, bystanders cursed him and his government who they blame for not preventing the carnage on Iraq's streets that is repeated all too often.
Many Iraqis blame their political leadership for security lapses that have allowed large amounts of explosives to make their way past multiple checkpoints and into areas packed with civilians.
College student Sadeq al Zawini, 25, was watching as rescue workers pulled bodies from the rubble. "We've had it with the Iraqi government and politicians. They can't continue blaming Da'esh and other terrorist groups. We need a solution," he said. "I lost several friends myself, some are still missing," he said, sobbing.
Ján Kubiš, Special Representative of the UN Secretary General, also urged unity in condemning the attack.
"The terrorists of Daesh [ISIS] who have suffered defeats at the battlefront are seeking to avenge their losses by targeting vulnerable civilians," he said. "Despite the pain and agony the Iraqi people will not surrender to the designs of those terrorists, will continue to reject their ways through displaying steadfast national unity and will eventually triumph."
The White house issued a statement. "These acts of mass murder are yet another example of Da'esh's contempt for human life," said State Department John Kirby, using another term for ISIS. "From Baghdad to Istanbul, Brussels, Dhaka, and Paris, Da'esh terrorists murder the innocent to attract attention and recruits. They will not succeed."
The attack, which security and medical officials said killed at least 213 people and wounded more than 200, came a week after the Iraqi forces recaptured Fallujah from Islamic State, leaving Mosul as the only Iraqi city under the group's control.