Parramatta (Media Release, 31 Oct 2023): A striking new gateway into the City of Parramatta is now complete with the official opening of Alfred Street Bridge today.
The Alfred Street Bridge is an important part in a growing network of active transport links to make the City easier to navigate for pedestrians and bike riders.
The 4.5-metre-wide, 200-metre-long bridge spans the Parramatta River between James Ruse Drive and Gasworks Bridge. It will provide the City's growing population with a convenient, safe and scenic connection over the river, directly to the future Stage 1 Parramatta Light Rail.
City of Parramatta Lord Mayor Cr Pierre Esber said he was proud to officially open this much-needed bridge to the community.
"Alfred Street Bridge is a distinctive new landmark for our City that will make it safer and faster for our growing community to travel throughout Parramatta," Cr Esber said.
"We live in a beautiful City and Alfred Street Bridge will cut down commute times and make it easier to connect to public transport and travel to the CBD. It's an important link that will connect the community to more than 20 kilometres of pedestrian and cycling paths to enjoy and explore our natural surroundings."
The $19 million project, co-funded by Council ($7.5 million) and the NSW Government ($11.5 million), is Australia's first true diagonal arch bridge.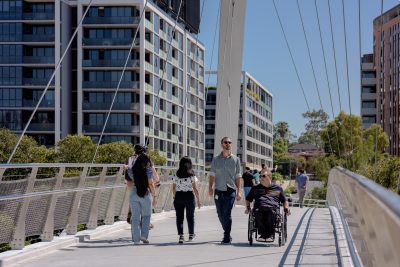 NSW Minister for Transport Jo Haylen said the bridge was an important connection for Parramatta and beyond.
"The Alfred Street Bridge is a stunning new connection across the Parramatta River for people walking or jumping on their bikes," Ms Haylen said.
"I'm proud the NSW Government could play a role in bringing this project to life. With an estimated 1.5 billion walking and bike riding trips taken each year across NSW, it's vital we make active transport options safer and easier."
NSW Minister for Planning and Public Spaces Paul Scully said Alfred Street Bridge was another important transport link in Parramatta.
"Alfred Street Bridge delivers on NSW Government commitments of providing quality public open space for the community and speeding up the delivery of local projects," Mr Scully said.
"This project provides a new active transport link catering for Parramatta's growing population with a convenient, safe and scenic walking and cycling link over the river.
"Residents can now directly access the Parramatta Light Rail stop on the southern side, along with services, schools and recreational areas."
The bridge shifts in orientation curving from the east at the Alfred Street entry to the west at the Baludarri Drive end and connecting neighbourhoods on either side of the Parramatta River. The unique diagonal arch gives people the opportunity to enjoy the experience of moving through the arch whether they are on the deck or passing underneath on a ferry.
Pedestrian and cyclist paths are being planned for staged delivery south of the Parramatta River, along Alfred Street down to Parramatta Road, to provide safe and enjoyable pedestrian and cyclist access to the bridge.
In the next 12 months, the following sections will be finished and ready for community use:
Alfred Street, Gray Street to Parramatta Road,
Alfred Street, Eleanor Street to Clay Cliff Creek,
Southern River paths, Alfred Street to Gasworks Bridge,
Finlaysons Creek, Mons Road to Darcy Road.
The community will have the opportunity to name the bridge with community consultation planned for 2024.
QUICK FACTS
The Alfred Street Bridge including approach ramps is 200-metres long and 4.5-metres wide.
Around 280 tonnes of Australian BlueScope steel was used to fabricate the deck and arch in Western Sydney by S&L Steel; more than 780 cubic metres of concrete was used in the construction of the bridge.
For media enquiries please contact: City of Parramatta Council Media Team.
t: 02 9806 5965
e: media@cityofparramatta.nsw.gov.au