Snow storm to hit Victoria and Australia's east coast. Snow forecast in Melbourne
Australia has just experienced its hottest winter on record, yet the snow season is showing no signs of slowing down.
The first week of September is set to be absolutely freezing as snow could fall to elevations as low as 300m above sea level.
Snowiest week in Australia
This week is set to be the snowiest week of the year with 70-120cm of fresh snow due to fall across the main resorts, taking the natural snow depth to not only a season high but the highest in years, according Weatherzone.
Ski fields including Mount Hotham are expected to drop to icy temperatures as low as -9C if teh trend continues.
Strong winds continue to hit most of Victoria as a cold weather continue to sweeps across the state.
Snow has touched Melbourne's fringe. The chilly storm is expected to cause chaos as it moves across Victoria and Australia's southeast. There will be massive snow dumps in the Victorian Alps with blizzard conditions expected.
It is expected to snow down to 400 metres in Victoria tonight and on Tuesday, 300 metres across Tasmania, including some suburbs in Hobart, and 500 metres in Southern NSW.
Several ski resorts including Perisher and Falls Creek have already announced they will extend their season into early October following the best snowfall in years.
Australia's 2017 #winter numbers are in! Read the #ClimateSummary here: https://t.co/MGPlZ23uGV pic.twitter.com/g72IirPKu1

— BOM Australia (@BOM_au) September 1, 2017
Australia's hottest winter on record
The hottest winter ever has been recorded in Australia amid a "long-term warming trend" mostly caused by climate change, according to the country's Bureau of Meteorology
"You have a long-term warming trend which is largely attributed to changing levels of greenhouse gases," the bureau's senior climatologist Blair Trewin told AFP.
Meteorologist Greg Browning said it was "basically this background warming signal that we're seeing right across the globe associated with global warming".
The bureau also noted that 19 of Australia's last 20 winters had seasonal top temperatures that averaged above the long-term national average.
Victoria was faced with the driest winter in more than 10 years, with rainfall "significantly below average," Mr Trewin told the Herald Sun.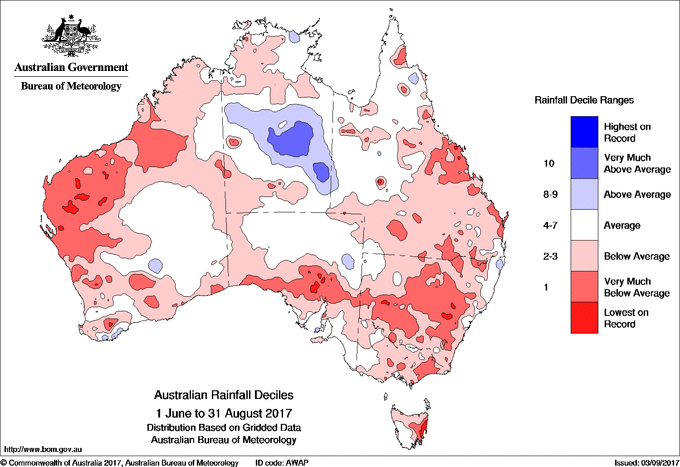 "Even if maximum temperatures are warmer than average, the snow resorts are still high enough that they will remain cold enough for snow during cold bursts of weather," Bureau of Meteorology forecaster Andrew Watkins told News Corp Australia.
"Plus a lot of the warmth this winter has been in the northern two-thirds of Australia and in the first half of the season. Victoria has actually had a mean temperature slightly below normal, though daytime temperatures have been 20th warmest.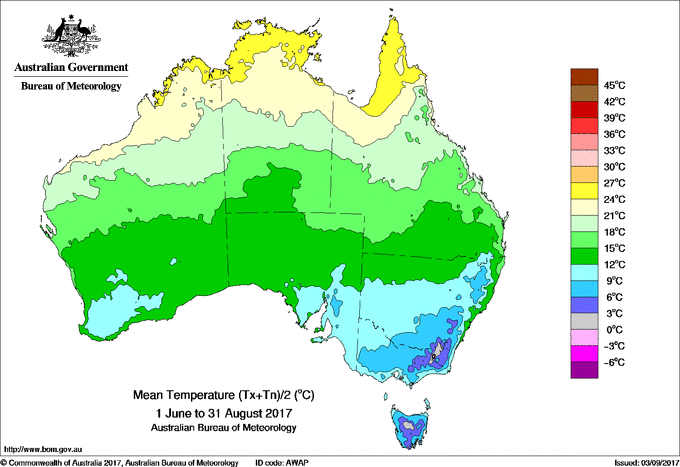 Climate change and record warmth
Australia's average daytime maximum temperatures were the highest on record for this winter, beating the previous record set in 2009 by 0.3?. This means Australia has set new seasonal highs for maximum temperatures a remarkable ten times so far this century (across summer, autumn, winter and spring).
The increased frequency of heat records in Australia has already been linked to climate change.
According to BoM's new spring outlook released yesterday, it looks like spring is going to continue to be warmer than average for the north and southeast of the country.