iPhone 7 and 7 Plus announced with water resistance, dual cameras, and no headphone jack
Apple has officially unveiled its long-awaited iPhone 7, featuring waterproofing, a dual-lens camera, and wireless AirPod headphones. A shiny black finish and new home button also make its debut.
The six new phones, announced on Thursday and available to order from today, range in price from $1079 to $1569 depending on storage capacity and size.
Apple has also ditched the 16GB and 64GB models and introduced a new 256GB model – which has a same amount of storage as Apple's top-of-the-range iPad Pro.
iPhone 7 will run on a new four-core "A10 Fusion" chip. Apple claims this will result in 40% faster overall performance, and 50% faster graphics performance, than the previous A9 chip. Per usual, take those benchmarks with a grain of salt. It'll support LTE Advanced connections, with speeds up to 450 Mbps.
The new handset, along with the larger iPhone 7 Plus, will be available for pre-order on September 9, and will arrive on September 16.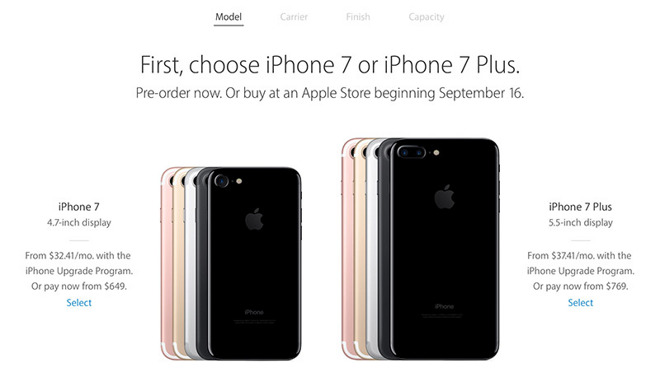 Here's how much 'Australia Tax' you'll pay
Australians will pay significantly more for Apple's new iPhones than American customers, as the so-called "Australia Tax" on the new gadgets is only half what Apple applies to music downloads.
Comparing those prices, minus the 10 per cent GST, with pre-sales tax US prices converted to Australian dollars reveals Apple is charging Australian customers between 12 and 15 per cent more than Americans.
The cheapest of the new iPhones are $132 more expensive in Australia, based on current exchange rates, and the top-end model is $159 dearer.
Everything you need to know about Apple's iPhone 7
Price
The unlocked iPhone 7 price in the US, UK and Australia are set to remain relatively stagnant, although the value has actually increased since Apple has wisely doubled the internal storage options.
It'll start at $649 (£599, AU$848) for a 32GB version of the phone, but it'll also be available in 128GB and 256GB versions as well. Gone is 64GB and the insufferable 16GB.
The 128GB version of the phone costs $749 (£699, AU$979) while the 256GB version comes in at $849 (£799, AU$1,109).
Design
The new phone may look very similar to last year's models, but instead of the matte metal finish, it has a glossy, mirrored design. The new color is called jet black and is much darker and richer than the space black of years past. Apple is also releasing a standard black model, along with gold, silver, and rose gold. The smaller iPhone 7 has a 4.7-inch Retina HD display, while its larger sibling has a 5.5-inch display.
Camera
Apple upgraded both cameras. The back one is now a six-element, 12-megapixel camera, and the front-facing selfie camera can now shoot at 7 megapixels.
Apple said the camera software would be updated later this year, allowing the iPhone 7 Plus camera to capture depth-of-field, and separate the background from the foreground to achieve amazing portraits. The standard 12-megapixel wide angle camera offers optical zoom at two times and up to 10 times digital zoom for photos.
 
Water Resistance
The iPhone 7 is also, at long last, water-resistant, a feature rival Samsung first introduced to its phones in 2014. The seal provides slightly less protection than the one on Samsung's latest phones. It's a nominal difference: One can sit in up to 1 meter of water for 30 minutes, the other can sit in 1.5 meters of water. Regardless, it's a lifeline if your phone drops into a pool, or someplace more dirty—a lifeline all previous iPhones lacked.
Screen
The screen sizes remain the same—iPhone 7 will have a 4.7-inch display and iPhone 7 Plus will have a 5.5-inch display—nestled in the same fashion, with a noticeable bezel surrounding them. But the iPhone 7 and iPhone 7 Plus have screens that are 25% brighter than its predecessor, and they'll both display a wider color gamut that Apple says will allow for more detailed gaming and photos.
Headphones
Apple has developed a new set of wireless headphones called AirPods, which is designed to work with the iPhone 7. The AirPods are truly wireless, without a cable connecting the left and right headphone. Apple developed a new wireless technology (based on Bluetooth Low Energy) that handles both audio and the wireless connection to the phone or Apple Watch. They have sensors to detect when they are in your ears and "motion accelerometers" to activate Siri.
The AirPods will be available in late October for $159. Apple-owned Beats is also introducing a line of headphones that make use of the new wireless technology.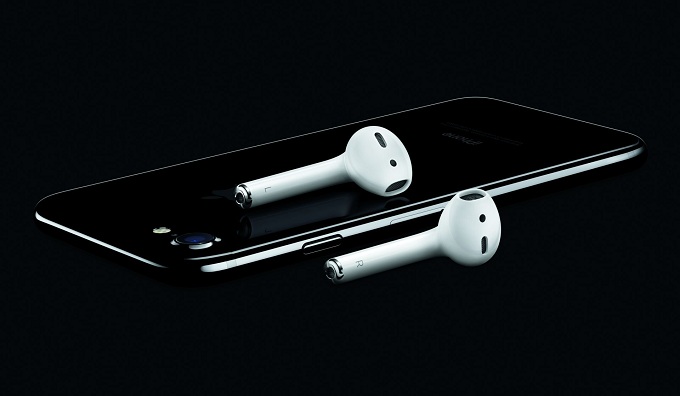 Battery
The iPhone 7 will also have the longest battery life found in any iPhone, said Apple. The iPhone 7 bested the iPhone 6s by about two extra hours in Apple's tests, and the iPhone 7 Plus beat the iPhone 6s Plus' battery life by about an hour.
Apple Watch Series 2
Apple has released the second generation of the Apple Watch at its annual event in San Francisco – theApple Watch Series 2.
It's effectively a smartwatch with a rectangular sapphire-coated display which can be paired with an iPhone through WiFi or Bluetooth.
The Apple Watch Series 2, priced at $369, looks just about the same as its predecessor. The main changes are on the inside. For instance, the new generation will be waterproof up to 50 meters (164 feet). The watches are available in existing aluminum, gold, and stainless steel as well as a new ceramic material.
The world's favourite game Pokemon Go is being brought to the Apple Watch. The app has been downloaded more than 500 million times around the world since its launch on July 6.