Sydney, Australia, Tribune International Report – Sunday, October 1, 2023
The 25th annual Milad-un-Nabi celebration exclusively for women took place at the exquisite Maharaja Karahi Restaurant function hall in Padstow, NSW, on Sunday, October 1, 2023. Commencing at 4 PM and concluding around 9 PM, the event was marked by its spiritual fervour, esteemed (Naat) reciters, and insightful Islamic speakers.
The evening was enriched with melodious Hamd (poetry in praise of the Almighty Allah), Naat (poetry venerating the Prophet Muhammad, Peace Be Upon Him), and enlightening Zikr (Islamic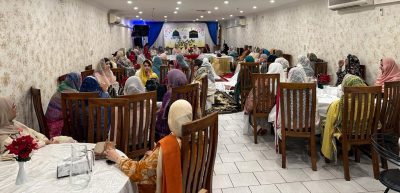 speeches) centring on the life of the beloved Prophet Muhammad, Peace Be Upon Him.
A line-up of distinguished speakers, including Mrs. Sabah Zahid, Mrs. Saima Naqvi, Mrs. Yumna Sohail, Ms. Cherry Zia, Mrs. Sadaf Bahar, Miss Sarina Hassan, Mrs. Azra Bano, Mrs. Saira Jawad, Mrs. Safia Ghori, Mrs. Kiran Saeed, Ms. Farida Javeri, Mrs. Nabila Qudrat, Mrs. Fozia Umer, Mrs. Humaira Shoaib, Mrs. Saba Nasir, Mrs. Javeria, Mrs. Urooj Faisal, Mrs. Anita Chaudhry, Mrs. Misbah Asif, Samina Ahmed, and Miss Adeena Faisal heartfelt Hamd, Naat. Mrs. Sarwat Hassan presented noteworthy speech, invoking the profound teachings and legacy of the Holy Prophet (Peace be upon Him). The event concluded with a soul-stirring recitation of Dua (prayer).
Mrs. Sarwat Hassan proficiently hosted the event and provided valuable insights into the teachings of Prophet Muhammad (peace be upon him), using quotations for added impact.
This cherished event has been consistently organized for the past 25 years by the dedicated community leader, Mrs. Surraya Hassan. During her address, Mrs. Hassan expressed heartfelt gratitude to the community, participants, and attendees. She recounted the event's humble beginnings in 1998 and its remarkable growth over the years.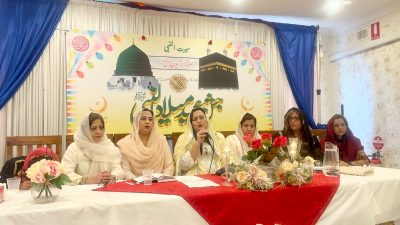 Saima Naqvi delivered a heartfelt prayer in the presence of Allah Almighty, earnestly seeking His blessings and protection. Special supplications were made for the safety and well-being of the Muslim Ummah and the Islamic Republic of Pakistan.
Mrs. Surraya Hassan also extended her heartfelt appreciation to the Naat participants and the entire community for their unwavering support, profound love for the Prophet Muhammad, peace be upon him, and their devotion to the sacred month of Rabbi ul Awwal.
Highlighting the generational shift in participation, Mrs. Surraya Hassan joyfully noted the increasing involvement of young girls in the Milad-un-Nabi and Seerat-un-Nabi gatherings. She proudly announced that this year's event reached full capacity within just 45 minutes of being announced online.
Looking to the future with optimism, Mrs. Surraya Hassan shared her plans to accommodate the growing community by moving the event to a larger venue next year, as it was traditionally held in the past. She expressed her hope that, Insha'Allah (God willing), the event will continue to unite and inspire the community in Sydney, Australia.
Mrs. Surraya Hassan, a well-known and respected senior community leader, has been the driving force behind this annual Eid-e-Milad-un-Nabi (Seerat-un-Nabi) event since its inception in 1998.
[END]