Should you upgrade to Samsung Galaxy S8? Here are 8 Reasons to help you decide
Samsung Electronics has launched the company's new flagship phones, Galaxy S8 and S8+, at the company's event 'Galaxy Unpacked 2017' in New York.
The S8 looks clean and sleek. It comes in 5.8in and 6.2in sizes, compared to 4.7in and 5.5in for the latest iPhone. The larger display and higher pixelation more than compensates for the extra length, and it felt comfortable to hold.
The S8 features Samsung's new artificial intelligence service, Bixby, with functions including a voice-commanded assistant system similar to Apple's Siri. There is also a new facial recognition application that lets users unlock their phones by looking at them.
1. Infinity Display
Both of the new phones feature an Infinity Display (a term the company trademarked just last month), which is a high-definition Super Active-Matrix Organic Light-Emitting Diode (AMOLED) screen with curved edges that cascade over the phone's sides. Denison said this design gives the S8 and S8 Plus a higher screen-to-phone ratio than any of Samsung's previous models. Their screens measure 5.8 inches and 6.2 inches for the S8 and S8 Plus, respectively (and that's measured diagonally, not vertically).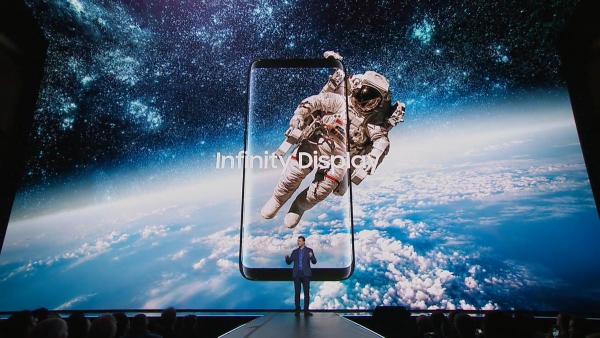 2. Iris and Facial recognition feature
One of the most interesting features of the Galaxy S8 is facial detection, which you can use to unlock the phone by lifting it to your face. Users can unlock Galaxy S8 and S8 Plus smartphones through iris scanning and facial recognition technology. To do so, users simply hold their phone in front of their eyes or their entire face, as if they were snapping a selfie. Biometric technology is now being integrated into more consumer devices and is increasingly seen as a critical next step to improve security.
3. Hello Bixby!
Galaxy S8 and the Galaxy S8+ sport their own voice assistant called Bixby. Bixby is an AI system that's designed to make device interaction easier, specifically designed to avoid the complexity of increasingly fully-featured devices. It will make its debut on the Samsung Galaxy S8 devices, but is designed to work across a range of Samsung products.
For example, Bixby is integrated into the phone's camera and can be instructed to search for a restaurant or shop for an item, that is within the camera's field of view.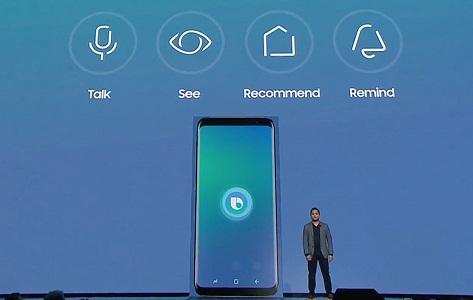 4. Samsung Dex
Samsung Dex promises to let you replace your desktop computer with your phone. The dock is small and circular, includes two USB ports and an HDMI port. Samsung's DeX offers "Desktop Experience" which means you can use your phone to power an entire desktop experience. DeX is powered by a plastic bowl-like stand with a USB-C prong, a couple of ports, and a fan. It supports the Galaxy S8 and effectively gives you a PC-like mobile desktop on a display.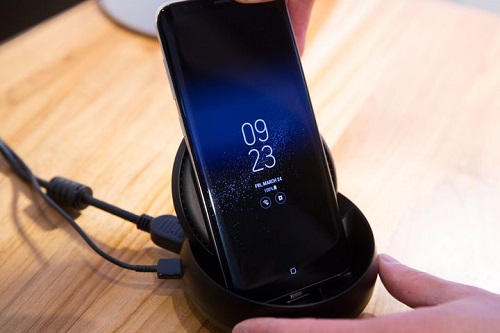 5. Water and Dust resistant
As with its predecessors, the S8 devices are water and dust resistant—and yes, a handset survived when I dropped it into a tank of water.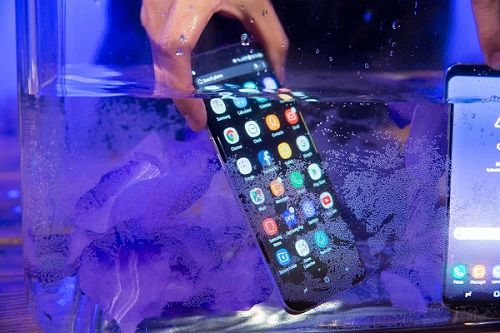 6. Impressive Camera
The Galaxy S8 is equipped with an 8MP F/1.7 Smart autofocus front-facing camera and a 12MP F/1.7 Dual Pixel rear camera, which should capture excellent images in low-light, non-crappy digital zoom and less blurry photos thanks to enhanced image processing.
7. VR and Gear 360
The Galaxy S8 and S8+ unlocks the new Gear VR with controller, powered by Oculus. Enabling convenient one-handed control and navigation, the controller provides better motion interaction when accessing interactive VR content. The Galaxy S8 and S8+ will also connect to the new Gear 360 to create 4K 360-degree videos and 15MP photos.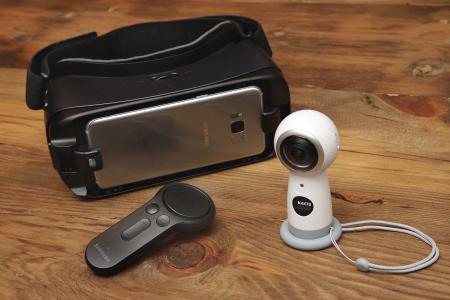 8. Samsung Health and Pay
The Galaxy S8 and S8+ also come with the enhanced Samsung Health service, which is one of Samsung's most widely used services. Samsung Health includes tele-health (US only), personal coaching, social capabilities that redefine traditional health and fitness.
Users can leave their physical wallet behind with Samsung Pay, turning their Galaxy S8 and S8+ into a digital wallet they can use almost anywhere they'd use a credit or debit card. With more than 870 worldwide banking partnerships, Samsung Pay claims to have processed more than 240 million transactions to date.
Key specs

 of Samsung Galaxy S8 and S8+
| Feature | S8 | S8+ |
| --- | --- | --- |
| Screen size | 5.8 inches | 6.2 inches |
| Dimensions | 148.9 x 68.1 x 8mm, 155g | 159.5 x 73.4 x 8.1mm, 173g |
| Camera | 12MP main, 8MP front | 12MP main, 8MP front |
| Storage | 64GB + MicroSD | 64GB + MicroSD |
| Software | Android 7.0 | Android 7.0 |
| Release date | April 28 or April 20 for pre-orders | April 28 or April 20 for pre-orders |
| Price | £689 | £779 |