Sydney (Tribune Report, 10 Nov 2022); On Wednesday, November 9, 2022, Pakistanis and the Pakistani nation around the world, especially in Sydney, celebrated a historic day.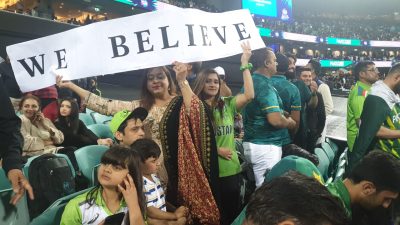 Here in Sydney, the Pakistani cricket team repeated the history 1992 Cricket World Cup. Last night, Pakistan defeated New Zealand in the semi-final to advance to the final.
There have never been so many Pakistanis at the Sydney Cricket Stadium before. Thirty thousand Pakistanis vigorously supported their team. The Australian-born new Pakistani generation was enthusiastically celebrating Pakistan's victory even before the match started, which was surprising.
Dil Dil Pakistan (heart full of Pakistan) and Pakistan Zindabad (long live Pakistan) echoed throughout the Sydney Cricket Stadium. Throughout the match, women, men, children, and youth dressed in Pakistani shirts and carrying Pakistani flags showed their love for their team.
New Zealand won the toss and decided to bat first, scoring 152 runs in twenty overs for the loss of four wickets. The Pakistani team won the semi-final by completing the score in 19.1 overs for the loss of three wickets, securing their place in the final, which will be held on Sunday, November 13 at Melbourne Cricket Ground (9MCG). Pakistan will now play whoever wins the second semi-final between India and England, in the other group, today (Thursday).
Among Pakistani cricketers, motivation is at an all-time high. God willing, we will bring the T20 World Cup to Pakistan, said the team squad.
Even though the match ended around ten o'clock at night, Pakistanis were abuzz with excitement and enthusiasm throughout the night.
Pakistan's victory was hailed by all cricket experts. There has been a sensation in the World Cup due to Pakistan's X-factor says, commentators.
As a result of losing two round games and then reaching the semi-final, this is a feat that can only be accomplished by Pakistan, which is why they are so well known in the cricket world.
In response to the Pakistani team's impressive performance, the Indians here congratulated them on their victory. After Pakistan reached the World Cup final, Indians said they couldn't predict who would win, while Pakistanis believe Pakistan will win no matter whom they face.