Sydney, Friday, 1st December 2017, Tribune's Report: Ladies from across Sydney, New South Wales gathered to celebrate the life and teachings of the Prophet Mohammad (Sallahu'Alaihi Wa Salim) on the special occasion of 12th Rabi ul Awal 2017 at the Desi Lounge Function Centre Hall, Harris Park (near Parramatta NSW).
The annual ladies milaad event, marking its 19th year, opened with the recitation of verses from the Quran read by 10-year-old Zunaira Zar Imran, followed by the recitation of the 100 names of Allah subhana'wa'ta Allah and an Arabic nasheed by 6-year old Hafza Faizan Followed by another beautiful naat (nasheed) by a medical university student, Miss Saher Waqar.
Prior to the milaad event opening, the ladies that arrived recited chapters from the Qu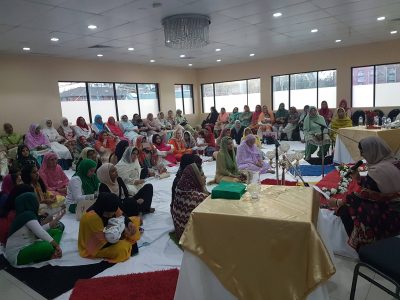 ran and Durood Sharif, as a part of the Quran Khwani.
This year, the event was graced from wonderful Naat Khwans, including Mrs Sara Jawad, who has performed her recitation of naats (nasheeds) on television in Pakistan and also won national naat (religious poetry recitation) competitions. It also included Mrs Tehmina Rao, a writer and poet from Adelaide currently in Sydney, who also gave a speech on teachings of Prophet Muhammad (peace be upon him).
Distinguished Naat reciters Mrs Saima Naqvi, once again this year also moved the audience with her touching Naat (nasheed) and recited the ending Dua (prayer) at the event. Other notable, Naat (nasheed) reciters included Mrs Nazia Urooj, Mrs Fouzia Rasheed, Ms Rabiya Tariq, Ms Azra Banu, Mrs Shagufta Alam and Mrs Sadaf Hassan. There were also few other ladies that were also eager to participate and recited naat (nasheed) from the audience.
Following the milaad, there was delicious dinner & sweets.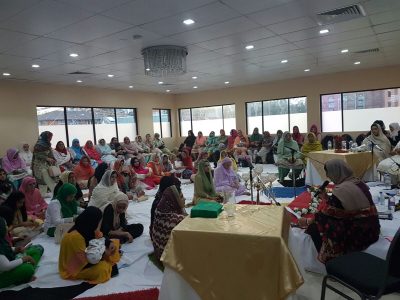 Sarwat Hassan, the MC of the occasion, thanked the Naat (Nasheed) reciters, supports, attendees of the annual milaad and the organiser of the event Mrs Surraya Hassan who has been running the event for the past 18 years and providing a platform for the ladies and youth to mark this religious event and promoting peace, tolerance & understanding of faith between members of the communities.
Mrs Surraya Hassan thanked all the ladies at event, including all the people that participated and also encouraged the youth and ladies to attend & participate in these events.
She mentioned that there are a few distinguished Naat reciters, Mrs Saba Khan, Mrs Yumna Sohail, Mrs Farida Javeri, and a few other members that are currently overseas and were missed by everyone this year but was happy to see the enthusiasm of the others that joined this year and the passion of the ladies. She said 'INSHA'ALLAH looking forward to seeing everyone in the next event'.