Sydney (NSW Govt Release, 27 April 2022); Flood-impacted small business owners and not-for-profits in the Northern Rivers can now apply for the $10,000 Small Business Northern Flood Grant to help with rent, wages, government fees and other business costs.
Deputy Premier and Minister for Regional NSW Paul Toole said the grant would provide a one-off payment of $10,000 to eligible small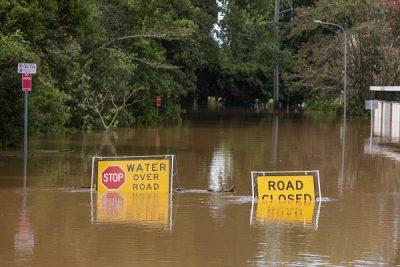 businesses and not for profits which were impacted by the floods, including those that suffered economically.
"There is still a long road to recovery ahead for many people and this grant is about ensuring they get back on their feet sooner," Mr Toole said.
"The impact of the floods on small businesses has been devastating. This funding will provide them with much needed cash flow to help pay the bills and get back to serving their customers and their community.
"To be eligible, businesses and NFPs need to have experienced a decline in turnover of 40 per cent or more due to flood events in March 2022, when compared to March 2021 or March 2020. This will help businesses that suffered more indirectly due to the floods, which caused economic upheaval locally. Many have lost both local and tourist traffic and spending – this grant helps address the overall economic damage a disaster of this scale can cause."
Minister for Customer Service and Digital Government Victor Dominello said the small business grants were the latest in a range of programs the NSW Government was delivering to support flood and disaster affected communities.
"The NSW Government has committed nearly $1.6 billion in support to flood-affected communities, providing assistance to individuals and businesses during the flood recovery," Mr Dominello said.
"Businesses can apply for the Small Business Northern Flood Grant via the Service NSW website. Customers can also call Service NSW on 13 77 88, register for a call back from the Business Concierge or visit their local Recovery Centre for further assistance."
Minister for Emergency Services and Resilience and Minister for Flood Recovery Steph Cooke said the grant is available to small businesses and NFPs in the highly impacted Northern Rivers local government areas of Ballina, Byron, Clarence Valley, Lismore, Kyogle, Richmond Valley, and Tweed Shire.
"The Small Business Northern Flood Grant will provide much-needed relief to businesses who may not have suffered direct damage from the flood waters, but are suffering alongside those victims due to their community being impacted. Many have been integral to the recovery and this grant goes a small way to helping with their recovery too," Ms Cooke said.
Businesses, which have successfully applied for any of the following support programs, will not be eligible for the grant:
Other individual flood assistance from the NSW or Commonwealth Government does not exclude applications from the $10,000 Small Business Northern Flood Grant.
Businesses are also encouraged to consider their eligibility for the Medium Business Grant, targeted at businesses over 20 FTEs, prior to applying for the Small Business Northern Flood Grant. This grant is due to open in the coming weeks.
Eligible business customers will have funds deposited in their bank account within five business days of being approved.
The grant will be available to businesses in the Ballina, Byron, Clarence Valley, Kyogle, Lismore, Richmond Valley, and Tweed local government areas.
For more information on the Small Business Northern Flood Grant visit https://www.service.nsw.gov.au/transaction/apply-small-business-northern-flood-grant
[End]