By Zahaib Nabeel
Unlike his cricketing career his political career was not smooth – To begin with, he lost his 1st election terribly. However, in the era of Former President of Pakistan and Ex 

COAS Gen (Rtd.) Pervez Musharraf era he gained some mileage after extending his support him in presidential referendum. In 2002 elections he bagged 1 seat in the National Assembly of Pakistan from Mianwali, his home town. His political immaturity exposed him as a man with many contradictions. His flamboyant past to his conservative and sometime extremist views. However, his contradictions were largely in covers because of the limited support his party and he had.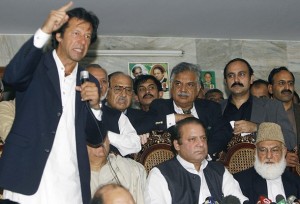 From 2008(election boycott) till 2012 he jumped on different bandwagons and left no stone unturned to find populous support but he couldn't find the winning formula. Finally, it was the Lahore jalsa of October 2012, which set him, sail for a success in 2013 general elections. His party was able to emerge as a third largest political party of Pakistan. Although his assumption of sweeping the elections proved wrong.
 An interesting thing to notice is that after realizing that he won't be able to form a government or even become an opposition leader he still opted to keep his NA (National Assembly) seat. If he was a visionary leader, he would have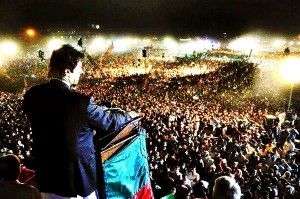 contested bi-elections on a PP seat from KPK and secured it to become a Chief Minister in KPK. He could have then developed KPK during his term to set an example of a Naya KPK. However, his arrogance, ego and self-centered personality made him chose the NA seat of Rawalpindi.
 As mentioned earlier, he changed his views so drastically that many like me are left to believe that to win elections he went after popular sentiments. After securing significant seats in elections 2013 he changed his stance and went on supporting extremist ideology of TTP. He went so far ahead with it that he suggested that they should be allowed to open offices in Pakistan to operate from. It was due to these reasons most of the founding members like Admiral (Retd) Javed Iqbal etc.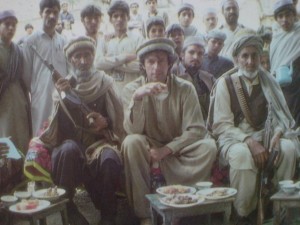 have distanced themselves from PTI and him. His stance on national issues raises many questions on his credibility, as his pro- Taliban stance is eye opener for many including workers of his own party. His ignorance against co-workers is also one of the many reasons of disturbance within party folds and there have also been reports of at least a couple of forward blocks in PTI.
 In my humble opinion, I will suggest Imran Khan and PTI  that if they want to keep the momentum going for the prosperity of Pakistan then they need to focus more on the constituencies  they won. Their transformation will be a setting stone in the emergence of PTI as the party of masses rather than a party of extremist. It is always easy to blame others and staging protests but it doesn't solve the issues of people of Pakistan.
 Almighty Allah May Protect Pakistan from all evils and turn it to be better place to live. Ameen. Pakistan First!